I was looking for a simple yet delicious dessert recipe when I stumbled upon this light and fluffy Angel Food Cake. Its cloud-like texture and crystal-white appearance caught my eye.
When I tried making it for the first time, I was surprised at how easy it was!
The key to achieving the perfect Angel Food Cake is careful whisking of the egg whites and precise measurements for the rest of the ingredients.
Check out this Peppermint Cookies with Chocolate Chips recipe for more delicious sweet treats!
Why You Will Love This Recipe
I absolutely adore angel food cake, and I'm sure you will too!
Angel food cake stands out as it is a relatively low-fat dessert option compared to other cakes, perfect for those who want to indulge without feeling guilty.
Additionally, the cake gets its airy texture from whipping the egg whites to create a stable foam. This technique results in a cake that is delicate and light as air.
Ingredients
Let me share the ingredients you need to make a wonderful angel food cake. This cake offers a delightful combination of lightness and fluffiness, creating a heavenly dessert experience that is truly exceptional.
Egg whites: about 1 ½ cups should do the trick. The egg whites provide the airy texture that this cake is famous for. Before starting the recipe, ensure the egg whites are at ambient temperature.
Sugar: ¾ cup of granulated sugar and 1 cup of confectioners' sugar. Combining these sugars ensures the cake turns out airy and not too sweet.
You'll need vanilla extract and almond extract in ½ teaspoon amounts for the cake's flavoring. These extracts lend a lovely, delicate aroma to the angel food cake.
Cream of tartar: 1 teaspoon to stabilize the egg whites when whipped to stiff peaks. It helps ensure that the cake maintains its fluffy texture while baking.
Add ¼ teaspoon of salt to the recipe to regulate the cake's texture. This little pinch of salt makes a difference, so don't skip it!
Cake flour: 1 ¼ cups of Cake flour is an excellent choice for achieving a delicate crumb in your cake as it is lighter and contains less protein than all-purpose flour.
How to make Angel Cake
1. Prepare the Egg Whites:
First, carefully separate the egg whites from the yolks. It is crucial to perform this step diligently, as the tiniest bit of yolk can prevent the egg whites from reaching the desired fluffy consistency. Use a clean, dry, and grease-free bowl for the whites.
2. Whip the Egg Whites:
Using a stand mixer or a hand-held mixer and applying a medium-speed setting, whisk the egg whites until they reach the stage of forming stiff peaks. This step might take several minutes, but be patient. The perfect consistency is achieved when the egg whites hold their shape without collapsing.
3. Gradually Add the Sugar:
As you continue beating the egg whites, gradually incorporate the granulated sugar. Sprinkle the sugar in a little at a time, allowing each addition to fully integrate before adding the next.
4. Gently Fold in the Remaining Ingredients:
Gently fold in the all-purpose flour and pure vanilla extract using a rubber spatula. Be careful to avoid excessive mixing at this stage. We want to keep the mixture airy and light.
5. Transfer the Batter to the Cake Pan:
Get the cake pan ready by lining it with parchment paper. Transfer the batter into the pan, ensuring an even spread.
6. Bake the Cake:
Preheat your oven to 350°F (175°C). Place the cake in the preheated oven and bake for around 30 to 45 minutes until it achieves a golden hue and a skewer or toothpick poked into the middle comes out without residue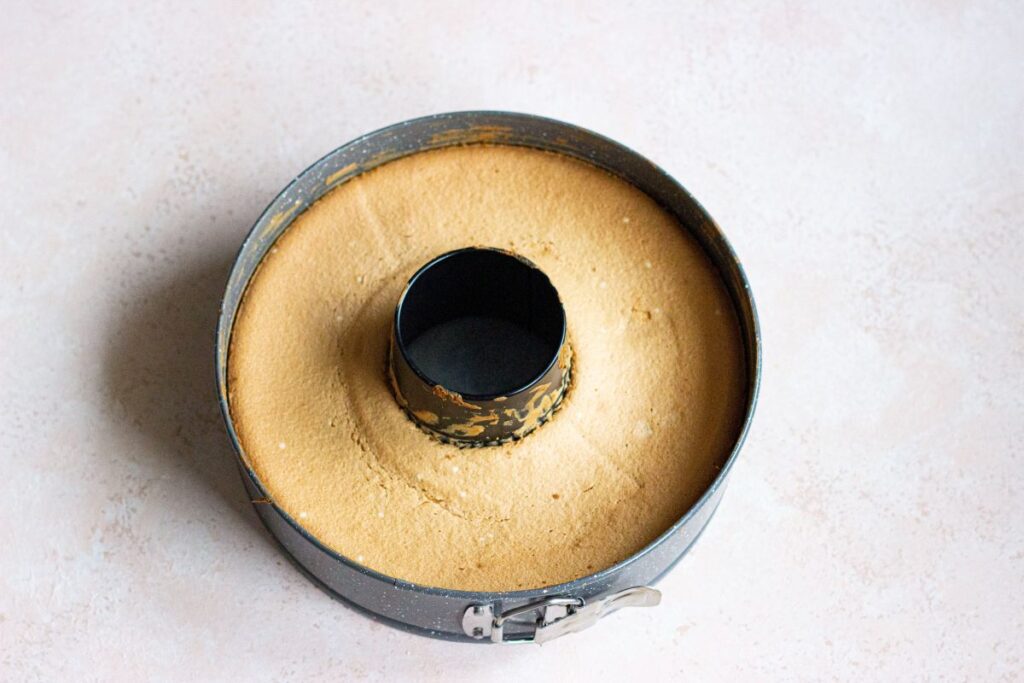 7. Serve:
Allow the cake to cool before serving. You can enhance this delicious Angel Food Cake with a light dusting of powdered sugar, or serve it with fresh berries and whipped cream for a heavenly dessert experience.
Tips & Tricks
Let me provide some helpful tips to achieve that perfect fluffy texture for your Angel Food Cake recipe.
Avoid Greased Pans: One crucial tip for making angel food cake is to use an ungreased pan. The cake's rise depends on its ability to adhere adequately to the pan's sides.
Egg White Separation: It's essential to separate the egg whites from the yolks carefully. Additionally, using room-temperature eggs can make a significant difference. Any trace of egg yolk in your whites can impede the whipping process, leading to a denser cake.
Leavening Agents: Angel food cake doesn't require traditional leavening agents like baking soda or baking powder. The recipe relies on the egg whites for leavening, so ensure you stick to the recipe and avoid these agents.
Addition of Acid: Adding an acid, such as lemon juice, to the egg whites can stabilize the mixture. This trick makes it easier to achieve stiff peaks when whipping the egg whites, contributing to the cake's light texture.
Gentle Mixing: When combining dry and wet ingredients, opt for a whisk and fold the mixture gently. This method helps maintain the volume of the angel food cake batter. Also, don't forget to sift your dry ingredients for a lump-free, airy cake.
These tips will assist you in creating a perfectly fluffy and light angel food cake. Happy baking!
Variations and Toppings
I enjoy playing around with various tastes and garnishes when making a homemade angel food cake. One of my favorite variations is adding a touch of chocolate. To do this, I replace part of the cake flour with unsweetened cocoa powder, which provides a delightful chocolaty twist.
Chocolate Variation: Add a delightful twist to your classic Angel Food Cake by incorporating unsweetened cocoa powder. Simply replace part of the cake flour with cocoa powder.
Almond Extract Variation: Experiment with different extracts to customize your cake. Swap out the traditional vanilla extract for the almond extract to introduce a subtle nutty flavor to your cake.
Fruity Whipped Cream Toppings: Sweetened whipped cream is a staple topping, but why not enhance it? Fold fresh fruit like strawberries or raspberries into your whipped cream before spreading it over your cake.
Strawberries and Cream: Slice strawberries, toss them with sugar, and let them macerate. Gently spoon the strawberries infused with juice over the cake, and conclude by adding a generous dollop of whipped cream.
Chocolate Ganache: Heat chocolate chips and heavy cream on low heat until smooth. Cool slightly before drizzling over the cake for a decadent touch.
Fruit Compotes or Sauces: Gently cook fruits like berries, peaches, or apricots with sugar and water until soft. Spoon the warm sauce over the cake, allowing the fruity flavor to envelop it completely.
Creamy Toppings: Warm Nutella or marshmallow fluff slightly for easy spreading. This offers a creamy, sweet contrast to the light cake.
In summary, Angel Food Cake is a versatile dessert with endless possibilities for customization. Whether you prefer chocolate-infused or fruity variations, there's no limit to the unique and delicious versions you can create.
FAQs
Does Angel Food Cake Mix exist?
While I often prefer to make my angel food cake from scratch, some easy cake mix options are available. Brands like Betty Crocker and Duncan Hines offer boxed angel food cake mixes that only require adding water and following the baking instructions. These are great options for those short on time or new to baking.
Are there any small-sized recipe options?
If you're looking for a smaller angel food cake recipe, try halving the standard recipe ingredients. Most recipes call for a 10-inch tube pan, so a smaller 6-inch pan should work well for a half-sized cake. Monitor the duration of baking as it may need to be adjusted for a smaller cake.
How to make Pinepple Angel Cake?
A pineapple angel food cake is a delicious variation of the classic recipe. All you need to do is fold a can of crushed pineapple (juice included) into your angel food cake batter before pouring it into the pan and baking. The pineapple adds a tropical twist and extra moistness to the finished cake.
Angel Food Cake Recipe
Angel Food Cake is a light and airy dessert with a hint of vanilla. Made primarily from whipped egg whites, sugar, and flour, this cake offers a delightfully fluffy texture. Perfect for those seeking a dessert that isn't overly sweet, it pairs wonderfully with fresh fruit or whipped cream. Easy to make and sure to impress, Angel Food Cake is a crowd-pleaser.
Ingredients
12

Egg whites

1 ½

cups

Sugar

1

tsp

Vanilla

1 ¼

cups

Flour
Instructions
Begin by separating 12 large egg whites from the yolks, making sure to place the eggwhites in a clean, dry, and grease-free bowl.

Once separated, proceed to beat the egg whites on medium speed until they reach astiff peak consistency.

As you continue to beat the egg whites, gradually incorporate 1 1/2 cups of granulatedsugar. It's essential to add the sugar in a steady sprinkle, ensuring each doseis fully integrated before adding more.

After the sugar, gently fold in 1 1/4 cups of all-purpose flour and 1 teaspoon of purevanilla extract into the mix. Be cautious during this step as overmixing candeflate the airy quality we want to maintain in the mixture.

Prepare your cake pan by lining it with parchment paper. Carefully transfer the batter intothe pan, smoothing it out to ensure an even spread.

Preheat your oven to 350°F (175°C) and bake the cake for approximately 30 to 45 minutes. You'll know the cake is ready when it exhibits a golden hue and a toothpick or cake tester inserted into the center emerges clean.

Finally, allow the cake to cool before serving. For added flair, consider serving this classicAngel Cake with a slight sprinkling of confectioner's sugar or accompanied by a serving of fresh berries and whipped cream. Enjoy this airy, delicious dessert!