I absolutely adore the holiday season, and nothing screams Christmas more to me than a batch of freshly baked peppermint cookies.
The combination of peppermint and white chocolate chips is divine, making these cookies the perfect addition to any holiday party.
So why not add extra cheer to your holiday season with these delicious peppermint cookies?
Ingredients for Peppermint Cookies
To make these tasty peppermint cookies, you'll need candy canes, flour, peppermint extract, sugar, and butter. The candy canes add a touch of festive flavor and visual excitement to these cookies.
The flour serves as the base for the cookie dough, while the peppermint extract gives the cookies a burst of peppermint flavor.
Sugar and butter combine to create a sweet and buttery taste that perfectly complements the other ingredients.
How to make Peppermint Cookies
To make these peppermint cookies, first, preheat your oven to 350°F.
Combine butter and sugar in a sizable mixing bowl until they become light and airy. Add in the egg, vanilla, and peppermint extract, and mix until well combined.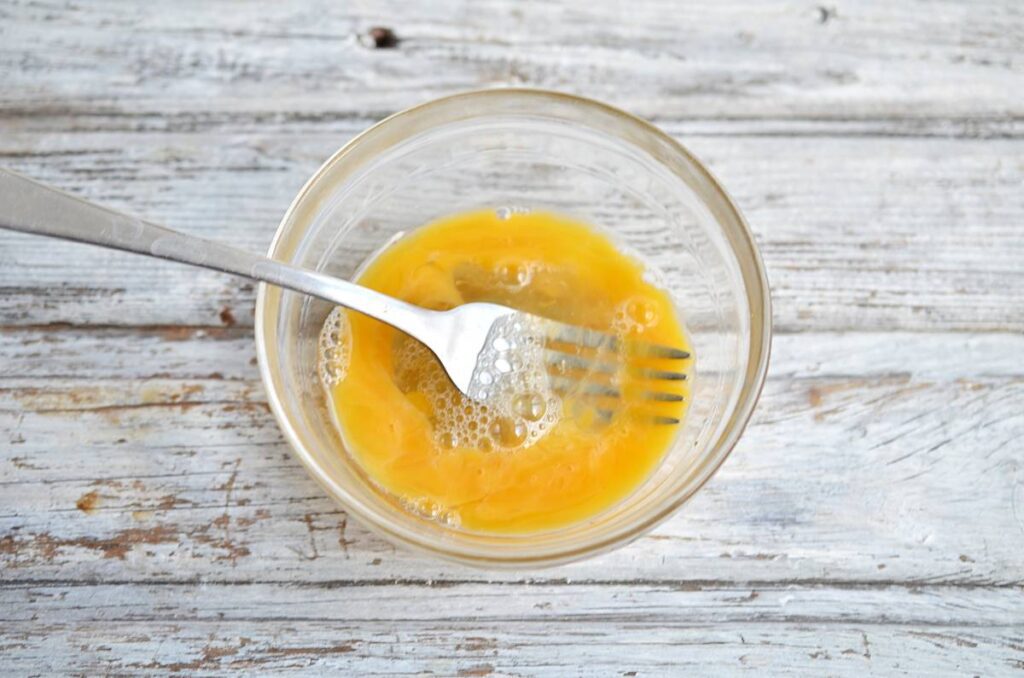 In another bowl, combine the flour, baking powder, and salt by stirring them together. Slowly incorporate these dry components into the wet mixture, stirring until everything is uniformly mixed.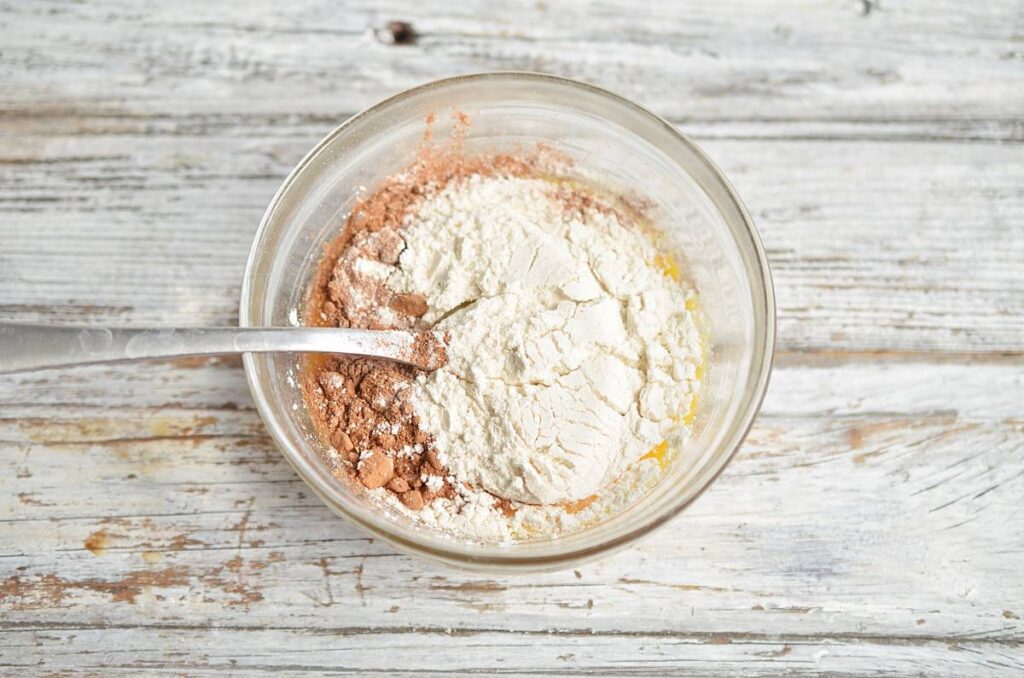 Fold in the crushed candy canes and white chocolate chips.
Shape the dough into round portions and arrange them on a baking sheet lined with parchment paper, lightly pressing each one to flatten it slightly.
Place in the oven and bake for 10-12 minutes or until the borders have a faint golden-brown hue.
After removing them from the oven, allow the cookies to settle on the sheet for a brief period before relocating them to a cooling rack to cool off completely.
Enjoy these festive cookies with a glass of milk or hot cocoa!
Tips and Tricks
I highly recommend trying different baking techniques to elevate your baking game.
For example, incorporating semi-sweet chocolate chips or a white chocolate drizzle can add a touch of elegance and visual interest to your peppermint cookies.
Don't be afraid to experiment with flavor combinations and ingredient substitutions to find the perfect balance of sweetness and peppermint flavor.
If your cookie dough spreads too much during baking, try chilling it in the refrigerator for 10-15 minutes before baking to help it hold its shape.
How to Store Peppermint Cookies
If you want to keep your festive peppermint cookies fresh and tasty, keep them in a sealed container at ambient temperature for up to four days or freeze them individually wrapped in plastic or aluminum foil.
Proper storage is crucial to ensure the longevity of these delicious treats. To freeze, simply store the cooled cookies in a freezer-safe container for up to a month and thaw to room temperature when ready to enjoy.
Should you wish to prepare the cookie dough ahead of time, transfer it to an airtight, freezer-safe Ziploc bag and freeze it for up to three months. Allow it to defrost in the fridge overnight before continuing the recipe as directed.
Always wrap the cookies individually before freezing to prevent freezer burn, and if your cookies are spreading, place the dough in the refrigerator to cool for around 10 to 15 minutes before baking.
How to Decorate Peppermint Cookies
Get ready to take your holiday treats to the next level with festive decorations – all you need are a few simple ingredients and your creativity!
Beautiful cookie decoration is a great way to make your cookies look more festive and delicious. Get creative with your cookie toppings and try some creative frosting ideas like peppermint buttercream or white chocolate ganache.
You can also create unique cookie designs by using cookie cutters in fun shapes like candy canes or snowflakes.
Don't forget to add holiday colors using red and green sprinkles or edible glitter.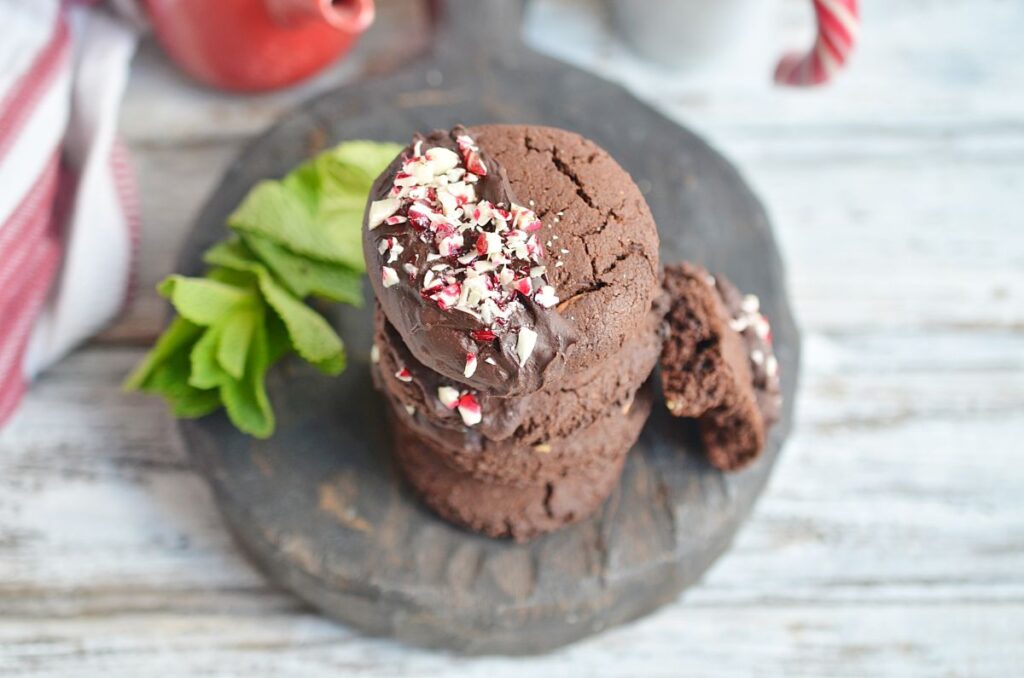 Cookie Variations
I love experimenting with cookie flavors and adding creative ingredients to give them a seasonal twist.
One of my favorite variations of peppermint cookies is adding some cocoa powder to the dough for a chocolatey twist.
You could add some chopped nuts or dried cranberries for extra texture as well.
Regarding festive presentations, I love dusting these cookies with powdered sugar before decorating them.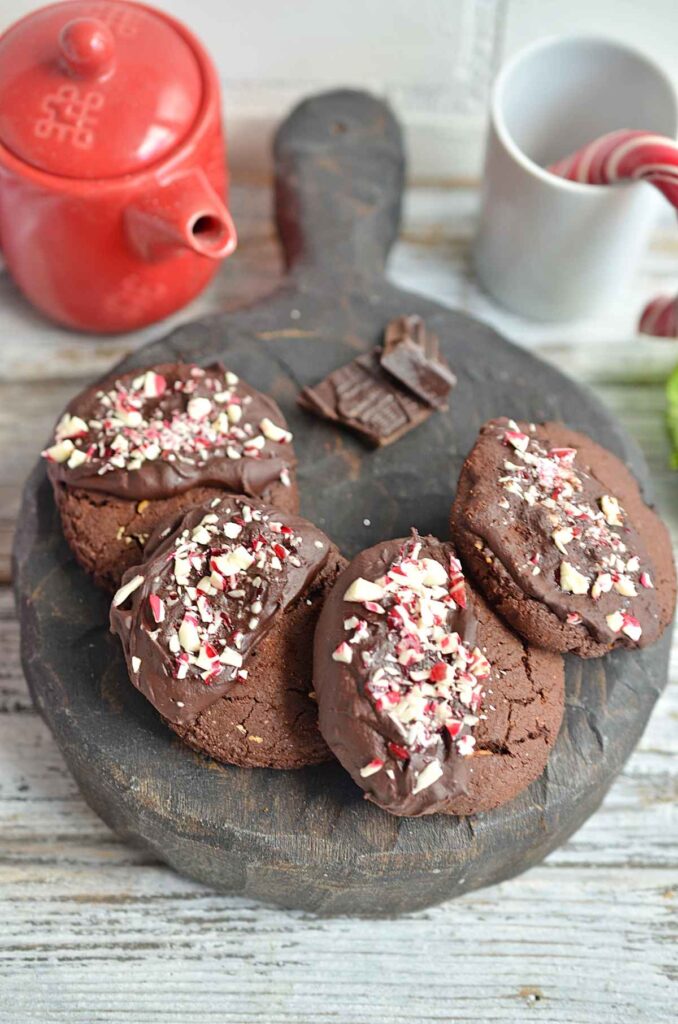 Gift Ideas
Here are three ways to make your gift extra special:
1) DIY packaging – instead of buying traditional cookie tins, opt for mason jars or decorative boxes you can decorate yourself.
2) Festive presentation – add some holiday flair by tying a ribbon or twine around the packaging and attaching a candy cane or festive ornament.
3) Personalized tags – make your gift even more thoughtful by adding a personalized tag with the recipient's name or a special message.
And if you want to go all out, consider putting together a gift basket with various homemade treats, festive mugs, and a cozy blanket.
FAQs
Can these cookies be made gluten-free or vegan?
For variations that are free of gluten, consider utilizing blends of flour that are specifically gluten-free such as almond flour. For vegan alternatives, swap out the butter for coconut oil or vegan butter and use flax eggs instead of regular eggs.
While fresh mint can provide a similar flavor to peppermint extract, it may not be as strong. To get the same level of flavor, you may need to use a larger quantity of fresh mint leaves. Additionally, you may need to adjust the baking time and temperature to account for the additional moisture in the fresh mint.
How many cookies does this recipe yield?
Well, I've made this recipe a few times, and on average, it yields about two dozen cookies. Of course, this may vary depending on the size of your cookie scoop.
Is it possible to substitute granulated sugar for powdered sugar for the frosting?
While powdered sugar is a traditional choice, I've found that using regular sugar can add a nice texture to the frosting. However, it's important to note that this may affect the consistency, so adjustments may need to be made.
Can I make these cookies without candy canes if I don't have any on hand?
Yes, you can try using peppermint extract or crushed peppermint candies instead. This may cause some slight texture differences, but overall the cookies will still be delicious.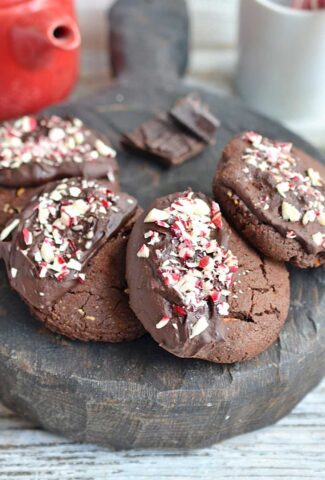 How to Make Peppermint Cookies with Chocolate Chips
These Peppermint Cookies with Chocolate Chips are an ideal treat for anyone who loves the combination of mint and chocolate. The recipe begins with making a minty cocoa dough, studded with chocolate chips. these cookies are perfect for any festive occasion or as a special homemade gift.
Ingredients
For the Cookie Dough:
1

cup

+ 2 tablespoons All-Purpose Flour

1/3

cup

Cocoa Powder

2 ⅓

tsp

Corn Starch

1 ¼

tsp

Baking Powder

1/2

tsp

Salt

3/4

cup

or, 1 1/2 sticks of Unsalted butter

1

cup

Brown Sugar

6

Tbsp

Granulated Sugar

1

Large Egg

1/2

tsp

Mint Extract

1½

tsp

Vanilla Extract

3/4

cup

Chocolate Drops
For the Chocolate Dip and Garnish:
6

ounces

Chocolate Drops

1/2

tsp

Canola Oil

1

Crushed Lollipop
Instructions
Gather all the ingredients in preparation for your baking session.

In a large bowl, combine the flour, cocoa powder, corn starch, baking powder, and salt. Mix these dry ingredients until well incorporated.

In a separate, smaller bowl, cream the butter until smooth. Then, add the brown sugar, granulated sugar, egg, vanilla extract, and mint extract, stirring until the mixture is well blended.

Gradually add the dry ingredients mixture into the butter mixture, making sure they are thoroughly combined.

Stir in the chocolate drops into the dough. Once combined, allow the dough to cool for about 1 hour.

While the dough is cooling, preheat your oven to 180 degrees Celsius (350 degrees Fahrenheit).

After the dough has cooled, shape it into cookies and place them on a baking sheet. Bake for 9-12 minutes until the cookies are set around the edges.

While the cookies are cooling after baking, prepare the chocolate dip. Melt the chocolate drops and mix in the canola oil for a smooth, glossy finish.

Dip each cooled cookie halfway into the melted chocolate, then sprinkle the dipped part with the crushed lollipop. Allow the chocolate to set before serving.