There's something magical about biting into a warm, freshly made doughnut that's filled with sweet, cinnamon-spiced apple goodness. I can't think of a better treat to enjoy in the cozy season when apples are ripe and ready for picking.
In this article, I'll share the simple steps to make mouthwatering apple-filled doughnuts from the comfort of your own kitchen.
Whether you're making them for a weekend brunch or just because, these doughnuts are worth savoring every sweet, apple-filled bite.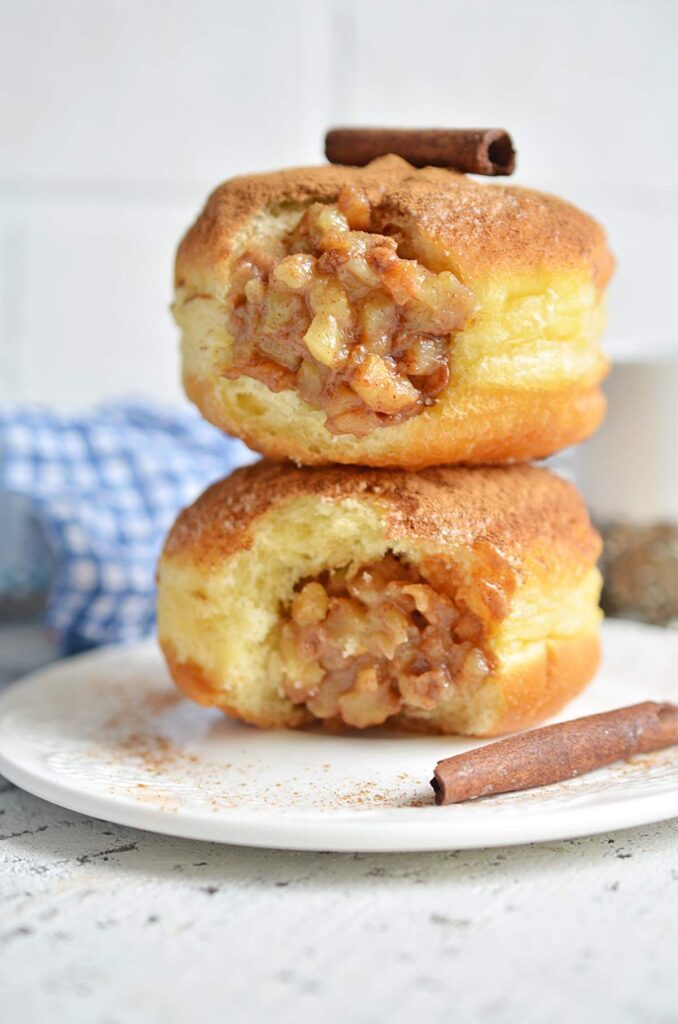 Why You Will Love This Recipe
I absolutely adore these apple-filled doughnuts because they showcase the perfect blend of soft, airy dough and flavorful fresh apple filling.
The yeast-based dough provides a light, tender crumb, which makes biting into each doughnut an uplifting experience. Trust me when I say, you won't be able to resist the heavenly apple pie flavor that this recipe offers.
One fantastic feature of these doughnuts is that they can be enjoyed any time of the year. The apple filling gives the feeling of warmth and coziness during the fall season, while the enchanting aroma and irresistible sweetness make them perfect for indulging on a sunny summer day.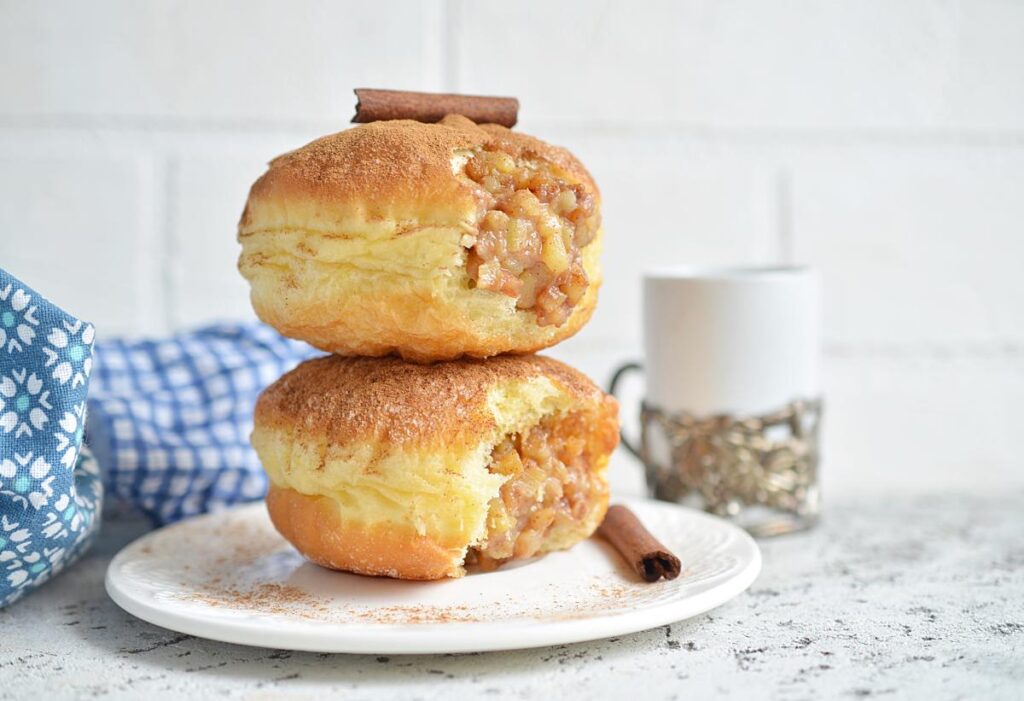 Ingredients
For the dough, we'll primarily need all-purpose flour, active dry yeast, warm milk, sugar, unsalted butter, a large egg, and salt. The yeast and warm milk will help the dough rise, making the doughnuts light and airy.
Next up, we have sugar, which comes in two forms: granulated sugar and brown sugar. Granulated sugar provides sweetness, while brown sugar offers a richer, more caramel-like flavor. Both will be used in the dough and filling.
The filling is the star of the show, consisting of apples, sugar, ground cinnamon, nutmeg, cornstarch, and unsalted butter. You'll want fresh apples, peeled and cored to make the filling as flavorful as possible. Cornstarch will thicken the mixture while cinnamon and nutmeg give it that iconic fall, apple pie taste.
To add a little twist and texture to the recipe, I use a mix of cinnamon and granulated sugar to dust the doughnuts after they have been fried or baked. Melted butter might be used to help the coating adhere to the doughnuts.
While baking is a popular method, I prefer frying my doughnuts in vegetable oil. This ensures that tantalizing crunch on the exterior while preserving a soft and airy inside. If you're worried about the calories, rest assured that the recipe doesn't require gallons of oil to achieve the perfect texture.
Also, make sure you have parchment paper or a well-floured surface to work with your dough.
How to make Apple-Filled Doughnuts
For the donut dough, activate the yeast by combining it with warm apple cider in a small bowl. Let it sit for 10 minutes.
Meanwhile, in a large bowl, create a flavorful dough mixture by blending melted butter, granulated sugar, a whole egg plus an additional egg yolk, milk, a hint of salt, nutmeg, cinnamon, and flour. Once the yeast is ready, add it to the mixture and knead the dough until it achieves a smooth, elastic consistency.
Cover the dough and allow it to rise for about an hour. Post rising, shape the dough into donuts on a floured surface, place them on a baking sheet, cover again, and let them rise for an additional 20 minutes.
For the apple pie filling, melt butter in a pan over medium heat, then add the diced apples.
Sauté them until they soften and have a slight caramelization, about 10 minutes. Now, integrate the salt, white sugar, light brown sugar, ground cinnamon, apple cider, and flour into the apples. Keep cooking for 1-2 more minutes until the mixture thickens. Once cooled, the delightful filling is ready to be transferred into a piping bag.
For frying and coating, bring the vegetable oil in a deep pot up to a temperature of 350°F. Carefully place the doughnuts into the oil and deep-fry until they turn a beautiful golden brown, about 1-2 minutes per side.
After frying, drain them on a paper towel-lined plate. Create a luscious coating by mixing granulated sugar and cinnamon in a separate bowl. When the donuts are warm, roll them in the sugar-cinnamon mix to get a full coating.
Next, use the prepared piping bag to inject each donut with the cooled apple pie filling, ensuring each one is evenly filled for a mouth-watering apple burst with every bite. Your delectable apple pie donuts are now ready to enjoy.
Alternate Cooking Methods
I love making apple-filled doughnuts, and sometimes, I like to explore other cooking methods besides frying. I've tried a few alternate ways that also yield delicious, fluffy doughnuts filled with apple goodness.
First, I've tried using an air fryer for a slightly healthier option. To do this, I preheated the air fryer to 350°F (175°C) and placed the prepared doughnuts in the basket, making sure they don't touch one another. I cooked them for about 5 to 7 minutes on each side. Once they were golden brown and cooked through, I let them cool slightly before filling them with the apple mixture.
Another method I've experimented with is 'baking' the doughnuts. For this step, I warm up my oven to 375°F (190°C) and prepare a baking sheet with a lining of parchment paper. I carefully placed the doughnuts on the prepared sheet and brushed the tops with melted butter. Next, I cooked them for a duration of 12-15 minutes until they turned a golden brown color and were thoroughly baked.
After cooling them down for a bit, I went ahead and piped in the apple filling and dusted them with cinnamon and powdered sugar.
These alternate cooking methods have allowed me to enjoy apple-filled doughnuts with slightly different textures and without the need for deep-frying.
So, feel free to try some of these methods if you're looking for a change from the traditional fried version.
Storage and Serving Suggestions
Allow the doughnuts to cool down entirely prior to preserving them in a sealed container at ambient temperature. They stay fresh for 2 days, or up to 5 days in the refrigerator.
If refrigerated, let them sit at room temperature for 30 minutes before serving. Sprinkle extra cinnamon sugar or warm them up before serving for added flavor. Pair them with milk or coffee for a delightful treat. Don't forget to share these tasty doughnuts with your loved ones!
Variations
Apple-filled doughnuts are wonderfully versatile. For a tangy twist, try a Granny Smith apple compote filling with lemon juice. For indulgence, replace the cinnamon sugar coating with a rich caramel glaze.
You can enhance the doughnut dough with apple cider for a deeper apple flavor. Experiment with various fillings, glazes, and doughs to discover endless tasty variations.
Tips and Tricks
Picking the right apple: For the perfect balance of sweet and tart, I opt for Granny Smith or Fuji apples. Their tartness offsets the doughnut's sweetness just right!
Apple filling prep: I cook apples until they're tender but firm, seasoned with sugar, cinnamon, and a splash of lemon. The lemon adds a wonderful pop of acidity!
Yeast dough handling: The trick with yeast dough is ensuring the yeast is fresh and allowing enough rising time.
Frying the doughnuts: Monitoring oil temperature is vital when frying. Keep it steady at around 350°F to 375°F for perfectly golden-brown doughnuts.
For the doughnut coating: Toss the warm doughnuts in a blend of cinnamon and sugar. The warmth helps the sugar stick, adding an extra layer of flavor!
Filling the doughnuts: A piping bag with a wide tip is ideal for filling the doughnuts with apple mixture. Stop filling once you feel some resistance.
Frequently Asked Questions
What's the best apple filling?
In my experience, the best apple filling for doughnuts is a mix of fresh apples cooked with sugar, cinnamon, and a hint of nutmeg. Just make sure the apples are tender but not mushy, and the flavors are well-balanced.
How to make apple jam?
Making apple jam is quite simple. First, peel, core, and chop the apples into small pieces. Combine the apples, sugar, lemon juice, and a pinch of cinnamon in a saucepan. Simmer the blend on medium flame, stirring now and then, until the apples become tender and the jam achieves a dense consistency. You can also add a touch of nutmeg or cloves for additional flavor. Once it reaches your desired consistency, allow the jam to cool before using it in your doughnuts.
Bake or fry doughnuts?
Personally, I love both baked and fried doughnuts. Baking them results in a slightly healthier treat that's just as delicious as its fried counterpart. However, frying doughnuts gives you that classic crispy exterior with a tender and soft inside.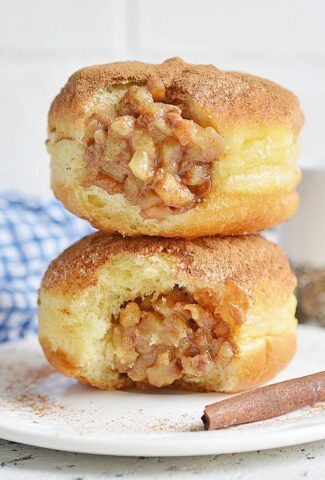 Apple-Filled Doughnuts
Apple-Filled Doughnuts are a delightful twist on a classic treat, featuring fluffy doughnuts generously filled with a sweet and tangy apple center. Perfect for satisfying a sweet tooth any time of the day, these doughnuts offer a harmonious balance of comforting textures and flavors. Enjoy these as a unique spin on your traditional doughnut.
Ingredients
For the Donuts:
2

packs

(1/4 oz each) active dry yeast

1

cup

warm apple cider (110° to 115°F)

6

Tbsp

unsalted butter, melted

1/3

cup

granulatedsugar

1

large egg plus 1 egg yolk

2

Tbsp

whole milk

3/4

tsp

salt

1/2

tsp

ground nutmeg

1

tsp

ground cinnamon

3¾

cups

cups all-purpose flour

3

cups

vegetable oil for frying
For the Apple PieFilling:
4

large

apples, peeled and diced

3½

Tbsp

unsalted butter

¼

tsp

salt

¼

cup

white sugar

⅓

cup

light brown sugar

2

tsp

ground cinnamon

2 ½

Tbsp

apple cider

½

Tbsp

all-purpose flour
For Sprinkling:
1

cup

granulated sugar

1

Tbsp

cinnamon
Instructions
For the Donut Dough:
In a small bowl, combine the yeast and warm apple cider. Set aside for 10 minutes, allowing the yeast to activate.

In a separate large bowl, combine the melted butter, granulated sugar, egg, egg yolk, milk, salt, nutmeg, cinnamon, and flour.

Add the yeast mixture and knead the dough until it is smooth and elastic. Cover and let rest for an hour to rise.

After the dough has risen, on a floured surface, shape it into donuts. Place the formed donuts on a baking sheet, cover, and let rise for an additional 20 minutes.
For the Apple Pie Filling:
Melt the butter in a pan over medium heat. Add the diced apples and sauté for about 10 minutes, or until they are soft and slightly caramelized.

Stir in the salt, white sugar, light brown sugar, ground cinnamon, apple cider, and flour. Continue to cook for another 1-2 minutes, or until the mixture has thickened.

Let the apple pie filling to cool down a bit. Once it's sufficiently cooled, transfer it to a piping bag. With this, you are all set to generously fill each donut with the delightful apple pie fillng after trying.
For Frying and Coating:
Heat the vegetable oil in a deep pot to a temperature of 350°F.

Gently introduce the doughnuts into the oil and deep-fry them until they achieve a golden brown hue. This process should take about 1-2 minutes per side. Use a slotted spoon to remove the donuts and drain on a paper towel-lined plate.

In a bowl, combine the granulated sugar and cinnamon for the sprinkling mixture. Roll the warm but not hot donuts in the mixture, ensuring they are fully coated.

proceed to inject the cooled apple pie filling into each donut using the prepared piping bag. Ensure to fill them evenly, creating a delightful burst of apple flavor in every bite.

Now, your scrumptious apple pie donuts are ready to be savored.
Nutrition