I've always loved the sweet and tangy flavor of apricots, so when I discovered apricot cake, it quickly became one of my favorite summer desserts. Featuring fresh apricots baked into a moist and delicious cake, this treat is perfect for enjoying a warm, sunny day with friends and family.
Easy to make, using simple ingredients, it's no wonder that apricot cake has become such a beloved recipe.
There's something magical about the way the juicy apricots burst with flavor in every bite of this cake. And trust me, you'll find that this apricot cake is surprisingly simple to put together.
Ingredients
In my apricot cake, I love using the following ingredients.
Eggs: These are fundamental to the structure of the cake, providing richness and a good texture.
Yogurt (or buttermilk): This ingredient adds moisture to the cake, resulting in a tender crumb.
Vegetable oil: This, combined with the yogurt, contributes to the cake's soft and succulent texture.
Sugar: It brings the perfect amount of sweetness to balance the tartness of the apricots.
All-purpose flour: This forms the body of the cake, and when mixed with other dry ingredients, ensures even distribution.
Salt: This small amount helps balance and enhance the overall flavor of the cake.
Baking Powder: This rising agent aids in the expansion and elevation of the cake and creates a fluffy texture.
Dried Apricots: Chopped and folded into the batter, these offer delightful bursts of fruity flavor.
Vanilla Extract: This ingredient complements the apricots and contributes a pleasant aroma and extra touch of sweetness.
How to Make Apricot Cake
I love baking apricot cake and it's so easy to make! First, I preheat my oven to 360F, which is the perfect temperature to bake an apricot cake.
To start the batter, I grab a bowl and pour yogurt into it. Next, I crack some eggs and add them to the yogurt. After that, I pour in some vegetable oil and vanilla, mixing everything thoroughly with a whisk to ensure a smooth and even blend.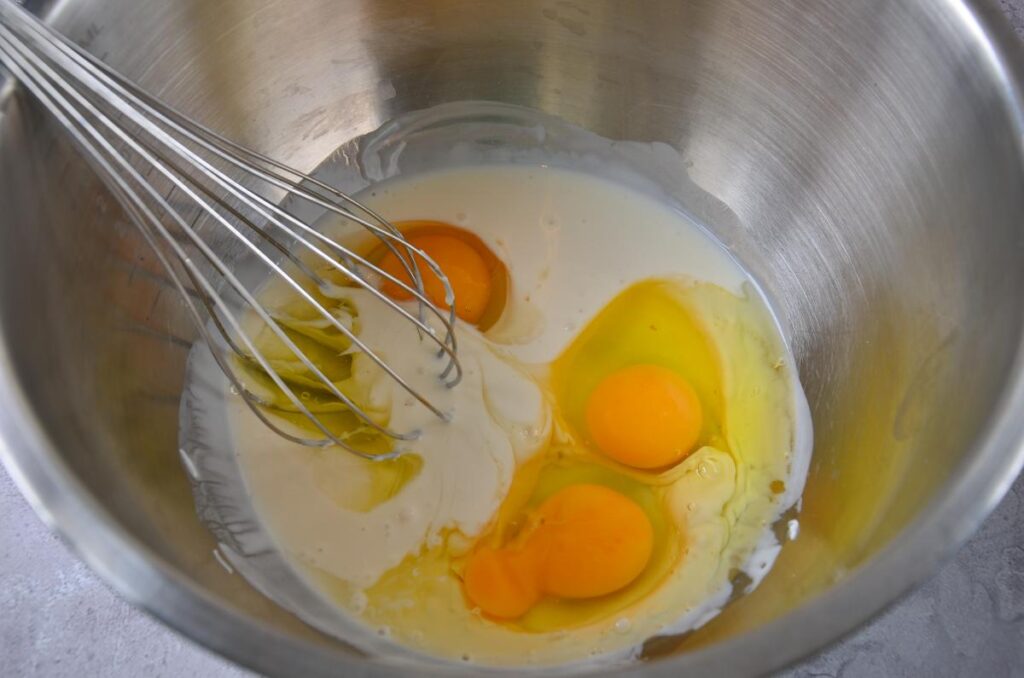 Once everything is mixed well, it's time to add the dry ingredients. I measure out the all-purpose flour and add it to the bowl. Then come the baking powder and salt. I mix these gently to avoid overmixing.
Now comes the most important part – the apricots! I make sure to wash and dry the dried apricots before chopping them finely and adding them to the batter.
After giving it a thorough mix, I transfer the dough to a silicone baking dish.
For the first 20 minutes of baking, I like to cover my pan with foil to prevent the top of the cake from getting too toasted. After these initial 20 minutes have passed, I remove the foil and let the cake bake for another 30-40 minutes.
A nice trick I use to check for doneness is inserting a wooden skewer into the cake — if it comes out dry, the cake is perfectly baked.
And that's it! By following these simple steps, I always end up with a delicious and moist apricot cake that my friends and family can't help but enjoy.
Selecting Apricots
When selecting apricots, there are a few factors to keep in mind to ensure you're getting the tastiest and most nutritious fruit:
Seasonality: Apricots are in season from mid-May through mid-August in the Northern Hemisphere, and from November through January in the Southern Hemisphere. Buying fruits in season ensures you'll get the best quality and flavor.
Color: Look for apricots with a vibrant golden-orange color. Avoid those with green or very pale yellow hues, as these indicate that the fruit is unripe. A slight blush on the apricot's skin can also be a good sign of ripeness.
Firmness: Gently press the fruit with your thumb. It should yield slightly under pressure but not feel mushy, which would mean it's overripe.
Selecting the right apricots is the first step to enjoying their delightful taste and texture in any dish or recipe.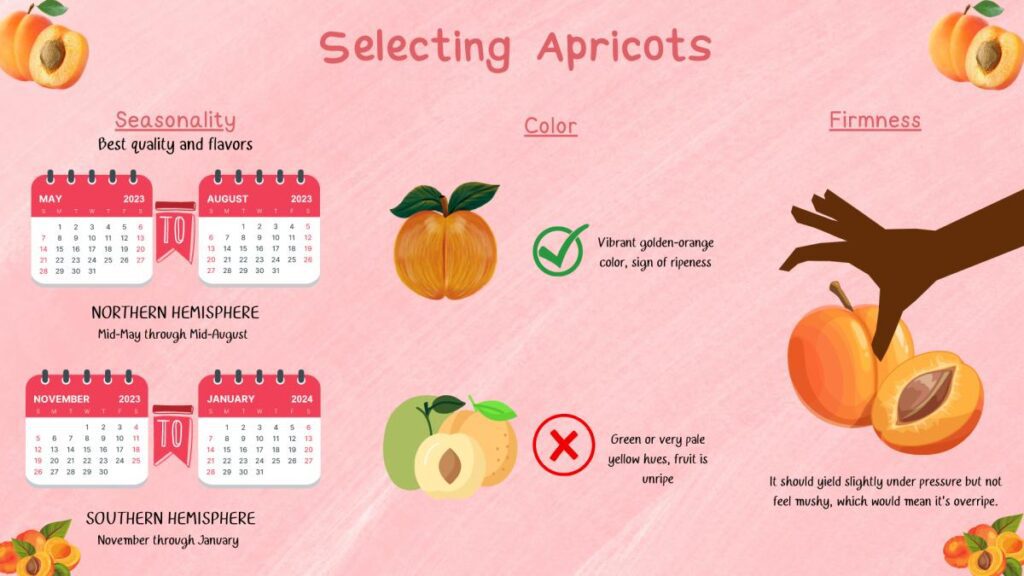 Storing Apricots
Once you have selected your perfect apricots, the way you store them is crucial to maintain their quality and taste. Here are some useful tips for storing apricots:
Ripening Unripe Apricots: If the apricots are not quite ripe, put them inside a paper bag and keep them at ambient temperature. The enclosed environment will help to speed up the ripening process. Don't forget to inspect them every day to determine their ripeness.
Storing Ripe Apricots: Once they have ripened, transfer the apricots to the refrigerator. The cold temperature will help preserve the fruit's freshness and extend its shelf-life.
Avoid Overcrowding: Store them in a single layer, if possible, to avoid bruising or squishing the delicate fruit.
Washing: Apricots, like other stone fruits, should not be washed until you're ready to use them. The moisture from washing can promote spoilage, so it's better to rinse them just before you're ready to eat them or use them in a recipe.
By following these storage steps, you can keep apricots fresh for at least one week.
How to Serve Apricot Cake
I love serving apricot cake as a delightful summer dessert. This cake is not only delicious, but it's moist and pairs wonderfully with a variety of other flavors. Below you will find some great ways to serve apricot cake.
Fruit Garnish: Elevate the cake's presentation with slices of ripe peaches and a sprinkle of chopped nuts like almonds or pistachios.
Creamy Pairing: Accompany the warm cake with a scoop of vanilla-flavored ice cream or a touch of whipped cream for a delightful flavor contrast.
Drizzle of Sauce: A tangy citrus glaze or caramel sauce can make the cake even more irresistible, creating a harmonious balance with the sweet apricots.
Spice It Up: A dusting of spices like cinnamon or cardamom can add a unique flavor twist that beautifully complements the apricot.
Gourmet Toppings: Try edible flowers or fresh mint leaves for an elegant finish that's visually striking and refreshing.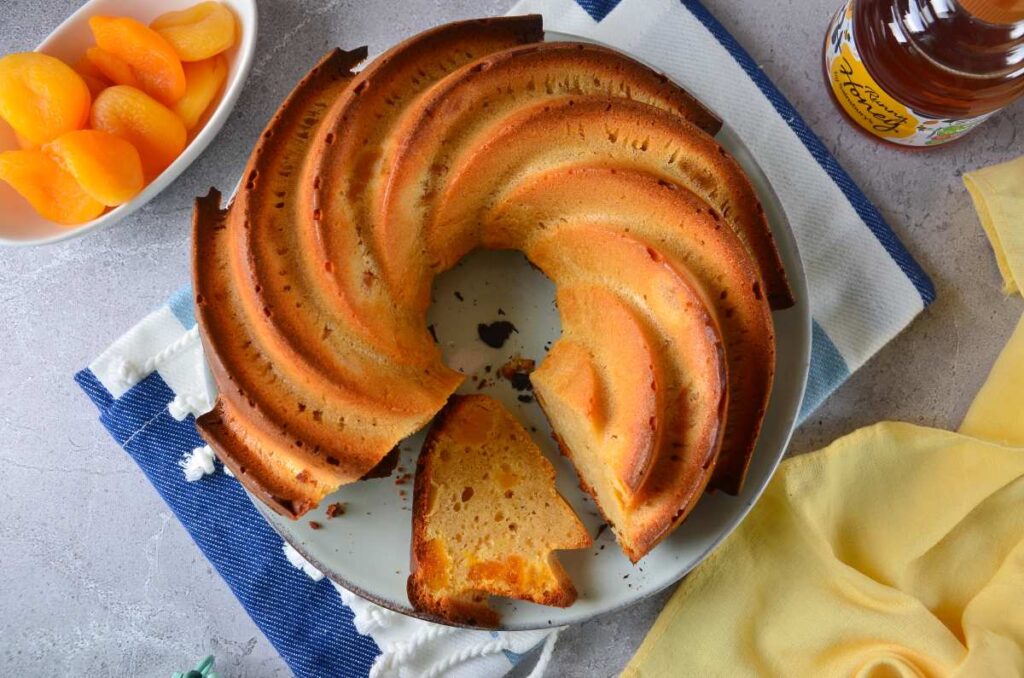 Tips and Tricks
Choose the Right Apricots: Ripe, slightly firm apricots enhance the cake's flavor. When selecting apricots, look for those with a vibrant orange hue, avoiding very pale or green fruits as these are not ripe. The ideal apricots should yield slightly to pressure without feeling mushy.
Prep Apricots Well: Halve, pit, and slice apricots into wedges before adding to the batter. Proper preparation helps the fruit to evenly distribute throughout the cake, allowing for a consistent apricot flavor in every bite.
Spice Up the Batter: Adding a touch of cinnamon, nutmeg, or cardamom elevates the cake's flavor. These warm spices complement the sweetness of the apricots and add a lovely depth of flavor to the cake, making it taste even more delicious and comforting.
Avoid Overbaking: Ensure a tender, moist crumb by checking the cake with a toothpick for doneness. It's best to start checking a few minutes before the estimated baking time to prevent overbaking. Should the toothpick emerge spotless or with only a couple of damp bits adhering to it, the cake is done and ready to come out of the oven.
Frequently Asked Questions
What else to make with apricots?
Some popular options include apricot jam, apricot chutney, apricot-stuffed pork tenderloin, or grilled apricots with honey and mascarpone. You can also try baking them into breads, muffins, and tarts or using them in fruit salads and smoothies.
What are some common apricot nectar substitutes in cakes?
If you don't have apricot nectar on hand, you can substitute it with other fruit juices or nectars. Some good options are peach nectar, orange juice, apple juice, or mango nectar. Keep in mind that each fruit juice will have a slightly different flavor profile, so choose one that will complement your cake recipe. Alternatively, you can also use a simple syrup made from equal parts sugar and water, but this will not provide any additional fruit flavor.
Apricot Yogurt Cake
The Apricot Yogurt Cake recipe delivers a moist, tangy dessert blending creamy yogurt and sweet-tart dried apricots. Baked to golden perfection in 70 minutes, this simple, flavorful cake offers a unique twist on traditional dessert, perfect for any occasion.
Ingredients
3

Large eggs

1

cup

yogurt or buttermilk

1/3

cup

Vegetable oil

1

cup

Granulated sugar

3

cups

All-purpose flour

1/4

tsp

Salt

2

tsp

Baking powder

1/2

Dried apricots

1

tsp

Pure vanilla extract
Instructions
Preheat your oven to 360 degrees Fahrenheit (180 degrees Celsius).

In a large mixing bowl, whisk together the liquid yogurt (or buttermilk) and eggs until well combined.

Gradually add the vegetable oil and vanilla extract to the mixture, stirring continuously.

In a separate bowl, combine the all-purpose flour, baking powder, and salt. Gradually incorporate this dry mixture into your wet ingredients.

Rinse and pat dry your dried apricots. Chop them finely and add to the cake batter, stirring well to ensure an even distribution.

Pour the batter into a silicone baking dish. To prevent over-browning, you may cover the pan with foil for the first 20 minutes of baking.

After 20 minutes, remove the foil and continue baking for an additional 30-40 minutes, or until a wooden skewer inserted into the center of the cake comes out clean.

Allow the cake to cool before removing it from the baking dish. Slice and serve for a delightful treat bursting with the tangy sweetness of apricots and the creaminess of yogurt.