Lemon cake is one of those classic desserts that will never go out of style. It has a light, refreshing taste that makes it a go-to choice for special occasions or just indulgent weekend treats.
As a passionate home baker, I've experimented with countless lemon cake recipes over the years, but there's one that truly stands out and has become my all-time favorite.
I'm excited to share this fantastic lemon cake recipe with you so that you can bring some of that citrusy goodness into your own kitchen.
Trust me, once you've tried this delightful treat, you'll find yourself itching to whip it up again and again.
Ingredients
I always love baking a zesty lemon cake, and today I'm going to share my go-to ingredients to make this delightful treat. I find that these particular ingredients result in a moist, flavorful, and perfectly balanced cake.
Eggs: Providing structure and acting as a binder, eggs are a key component in achieving the right texture in your cake.
Soft Butter: For a rich, tender crumb, soft butter is a must. It adds a creaminess that compliments the tangy lemon.
Lemon Zest: The secret to a truly vibrant and tangy lemon cake lies in fresh lemon zest.
Cup Sugar: Just the right amount to sweeten your cake without overpowering the zesty, lemony taste.
All-Purpose Flour: The foundation of your cake structure. All-purpose flour is a great choice for its reliable and consistent results.
Salt: A minor quantity of salt is crucial to balance the sweetness and enhance the flavor profile of the cake.
Cornstarch: This secret ingredient gives the cake a delicate crumb and helps ensure a soft and tender texture.
Lemon Juice: This adds an extra punch of citrus and helps keep the cake moist and refreshing.
Powdered Sugar: A dusting on top adds elegance and a light sweetness, perfect for serving at gatherings or savoring with a cup of tea.
How to Make Lemon Cake
I'm thrilled to share a quick, delicious lemon cake recipe, perfect for any citrus lover. Here are the steps:
Start by setting your oven to preheat at 360 degrees Fahrenheit. Separate your eggs into yolks and whites. In a medium bowl, combine your sugar, lemon zest, egg yolks, and softened butter. Using an electric mixer, blend together for a minute or two until the mixture is well incorporated.
Gradually stir in the all-purpose flour and cornstarch to the mixture.
In a separate bowl, whisk the egg whites with a splash of lemon juice until it's frothy. Slowly fold these beaten egg whites into your existing mixture, adding them in small increments to maintain a light, airy texture.
Now, prepare your baking dish. If you're using a silicone dish, you can directly pour in your cake batter. However, if you have a ceramic or metal pan, it would be best to line it with parchment paper first.
Once prepared, put your baking dish in the preheated oven and bake for about 35 to 40 minutes. To ensure the cake is perfectly baked, insert a wooden skewer into it – it should come out clean.
Allow the cake to reach room temperature prior to sprinkling it with confectioner's sugar. Slice and serve for an irresistible treat that's sure to impress your guests!
Lemon Cake Variations
What I love about lemon cake is its versatility. There are so many variations of this zesty dessert that can satisfy any lemon lover's craving.
Lemon Bars: These bite-sized delights combine a buttery crust with a sweet and tangy lemon filling.
Lemon Blueberry Cake: A testament to one of nature's best flavor combinations, the lemon blueberry cake is a feast for the senses. Whether you bake it as a loaf or a layered cake, the sweetness of the blueberries perfectly balances the tangy lemon.
Lemon Cupcakes: Fancy a lemon dessert but not an entire cake? Lemon cupcakes are your answer! Simply convert your favorite lemon cake recipe into more miniature, cupcake-sized delights and frost with lemon icing. Ideal for sharing!
Lemon Pound Cake: This dense, buttery cake packs a punch of zesty lemon flavor, making it a hit among pound cake lovers.
Lemon Meringue Pie: While not technically a cake, the lemon meringue pie deserves a special mention for its zesty lemon filling and fluffy meringue topping.
Frostings and Fillings
When it comes to lemon cakes, the right frosting or filling can make all the difference. I love a tangy lemon cream cheese frosting. Just blend softened cream cheese, butter, confectioners' sugar, lemon juice, and zest. Spread this on your cake layers for a rich, zesty treat.
Alternatively, light whipped cream can provide a nice contrast to the dense cake. Whip heavy cream, confectioners' sugar, and a dash of lemon juice to stiff peaks, then spread between cake layers.
For a creative twist, consider using lemon curd as a filling. Its luscious, zesty flavor enhances the lemon cake beautifully. Make it by heating lemon juice, sugar, butter, and egg yolks until thick. Cool and spread between layers or mix into your frosting.
You can of course experiment, mix and match, and find your perfect combo.
Baking Tips and Techniques
When I'm making a lemon cake, I love to ensure it's fluffy and moist. Here are some tips I've picked up to help you with your baking:
Beat Sugar and Butter Thoroughly: The key to a fluffy cake lies in beating the sugar and butter until smooth and creamy. This process incorporates air, ensuring a lighter texture. Remember to scrape the sides of the bowl for a well-combined mixture.
Accurate Baking Soda Measurement: The right amount of baking soda is crucial for an ideal rise. Follow your recipe's instructions closely and sift dry ingredients to reduce lumps and achieve a finer texture.
The Fat Factor: A mixture of butter and oil can create a moist crumb without losing the rich buttery flavor. Opt for neutral-flavored oils, like vegetable or canola, so they don't overpower the lemon.
Be Mindful of Nutritional Information: Lemon cake's calories, saturated fat, cholesterol, carbohydrates, fiber, and protein may vary based on the recipe. If you're watching your diet or have dietary restrictions, keep these stats in mind.
Fresh Lemon Zest and Juice: Achieve a delicious tangy flavor by using fresh lemon zest and juice. It enhances the flavor and provides a refreshing touch. For an extra zesty kick, consider adding more zest than the recipe calls for.
I hope these friendly tips and techniques are helpful for you when baking your next delicious lemon cake.
Serving and Presentation
Serving a refreshing, slightly tart lemon cake is a joy, and presentation is key.
Display your cake on a beautiful stand to elevate its presentation, and consider pairing it with whipped cream, vanilla ice cream, or raspberry sauce for a flavor balance.
Finish with a dusting of powdered sugar or a garnish of fresh lemon zest and mint leaves for added flair. Always serve your lemon cake at room temperature for optimal taste and texture. Enjoy this delightful dessert with loved ones!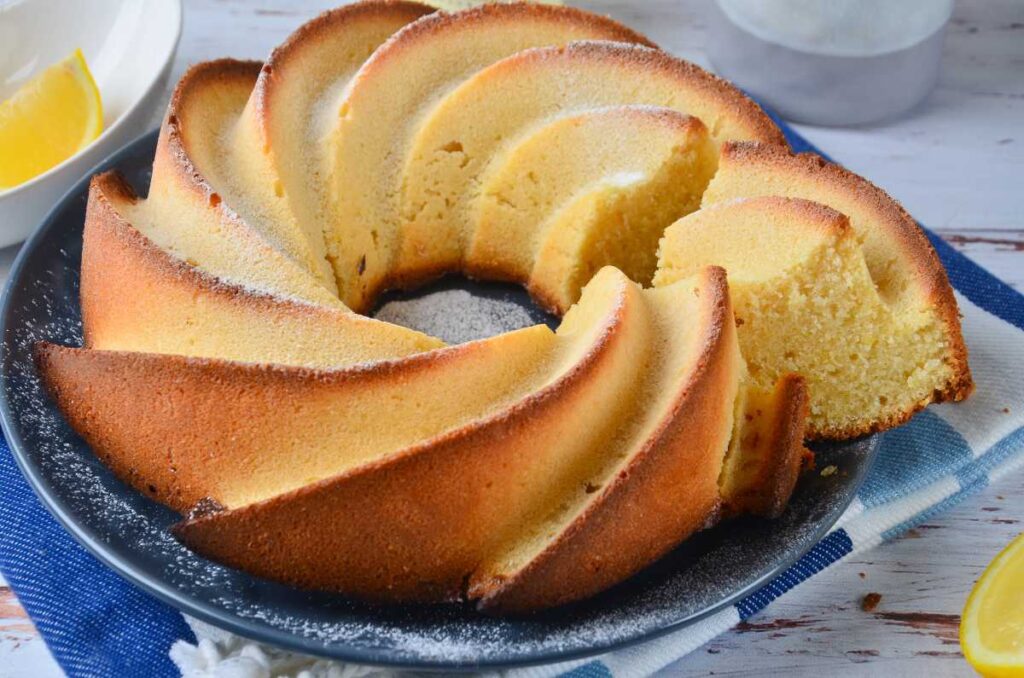 Storage and Make-Ahead
Making lemon cake ahead of time or preserving leftovers can be easy with these tips. Prepare the cake layers a day or two prior, cool them, and wrap in plastic wrap at room temperature to maintain moisture and flavor.
To freeze, ensure the cake is cool before wrapping in plastic wrap and aluminum foil. Preserve in a hermetically sealed container or bag in the freezer for a maximum of three months. Allow it to reach ambient temperature before applying the frosting.
For storing sliced lemon cake, keep it airtight. A frosted cake can be kept in an airtight cake holder, while individual slices of an unfrosted cake should be wrapped in plastic wrap. Remember food safety practices and don't keep perishable cakes within the "risk area" (40°F-140°F) for over two hours to avoid bacterial growth. If your cake has perishable filling or frosting, refrigerate it.
These tips ensure you can enjoy your lemon cake at your convenience. Happy baking!
Frequently Asked Questions
What is required to prepare a moist lemon cake?
For a moist lemon cake, I usually include fresh lemon juice and lemon zest to provide that tangy, natural flavor. Additionally, using oil instead of butter and incorporating yogurt or sour cream keeps my cake moist and tender.
What frosting goes with lemon cake?
A cream cheese frosting is a classic choice that complements a lemon cake wonderfully. I also enjoy pairing it with a Swiss meringue buttercream or a seedless blackberry jam, like in these recipes.
How to bake a lemon cake without buttermilk?
When I don't have buttermilk on hand, I substitute it with a combination of milk and a little acid, such as lemon juice or white vinegar. For every one cup of buttermilk required, I mix one cup of milk and one tablespoon of acid and let it sit for a few minutes before adding it to the batter. This mixture provides the same tangy flavor and tender texture as buttermilk.
How can I improve the flavor of a box lemon cake mix?
To enhance the flavor of a box lemon cake mix, I often add fresh lemon juice and zest into the batter. Incorporating a box of instant lemon pudding, like in this easy lemon bundt cake recipe, also elevates the flavor without requiring extra effort. Replacing water with milk and using real butter instead of oil can improve the texture and taste as well.
Lemon Butter Cake
The Lemon Cake Recipe delivers a light, buttery cake with a refreshing citrus twist. Prepared with fresh lemon zest and juice, this moist dessert is dusted with powdered sugar for a hint of sweetness. Ready in just 60 minutes, this Lemon Cake is a delightful, easy-to-make treat.
Ingredients
3

Large eggs

1/2

cup

Unsalted butter, softened

2

Tbsp

Lemon zest

1/2

cup

Granulated sugar

1

cup

All-purpose flour

1/4

tsp

Salt

2

Tbsp

Cornstarch

2

Tbsp

Fresh lemon juice

1

Tbsp

Powdered sugar, for garnish
Instructions
Preheat your oven to 360 degrees Fahrenheit (180 degrees Celsius). Separate the eggs, placing whites and yolks into separate bowls.

In a medium bowl, combine the sugar, lemon zest, egg yolks, and softened butter. Using an electric mixer, beat the ingredients together for 1-2 minutes until well combined and creamy.

Gradually add in the all-purpose flour and cornstarch to the yolk mixture, stirring well until the ingredients are fully incorporated.

In a separate bowl, whisk the egg whites with the fresh lemon juice until stiff peaks form. Carefully fold the whisked egg whites into the cake mixture in small portions, ensuring to maintain the airy texture.

Pour the batter into a silicone cake pan. If you are using a ceramic or metal cake pan, make sure to line it with parchment paper first to prevent sticking.

Place the cake pan in the preheated oven and bake for 35-40 minutes. You can check the cake's readiness by inserting a wooden skewer into the center – it should come out clean.

Remove the cake from the oven and let it cool completely in the pan. Once cooled, dust the top of the cake with powdered sugar for a decorative touch.

Slice the lemon butter cake and serve. Enjoy the bright, citrusy flavor paired with the moist, buttery texture.