Today our discussion will center around one of the most important steps in cake baking: cooling. I know, waiting for a freshly baked cake to cool down can be quite challenging.
We all have our own tricks and methods to speed up the process or simply distract ourselves from the tantalizing aroma coming from the kitchen.
But why is it so critical to let your cake cool before frosting or serving? Well, that's what we're here to discuss. From understanding the science behind heat transfer to learning how different factors such as humidity and altitude affect cooling time.
Understanding The Importance Of Cooling
After baking a delicious cake, it's only natural to want to dive right in and start frosting it. But hold on! Before you do that, it's essential to let your cake cool down first. Otherwise, all your hard work could go to waste.
So how long should you wait? Generally speaking, it's best to let a cake cool for at least 10 to 20 minutes before removing it from its pan. This will allow enough time for the edges and bottom to set properly without risking any damage or crumbling.
Once you've taken your cake out of the oven, resist the urge to touch or move it until it has cooled completely. Depending on the size and density of your baked goods, this process can take anywhere from an hour up to three hours or more!
While waiting may seem like a chore, there is actually quite a bit happening during this cooling period that makes it so important. For starters, allowing your cake to cool slowly helps prevent any unwanted condensation from forming, which can make your frosting slide off or become too wet. Additionally, if you try to frost a warm cake too soon, the icing will melt and become runny – not exactly what anyone wants!
Factors That Affect Cooling Time
Now that we understand the importance of cooling a cake before frosting it, let's take a closer look at factors that affect its cooling time. It is important to note that cooling time can vary depending on several variables such as humidity, room temperature, and the size and shape of your cake.
Firstly, how long should you cool your cake? Generally speaking, most cakes require about 30 minutes to an hour to cool down to room temperature. However, denser cakes may need more time, while lighter ones could be ready sooner. The key is to wait until your cake has completely cooled before frosting it. Rushing this step might result in melted icing and ultimately ruin all your hard work!
Another method some bakers use is placing their freshly baked cakes in the fridge or freezer for quicker cooling. While this technique works well with certain types of cakes such as icebox cakes, mousse cakes, or cheesecakes. However, with classic sponge cakes or cupcakes could have undesirable results. Cakes exposed to cold air can lose moisture, leading to dryness and crumbly texture.
So how can you effectively cool a cake without compromising its texture? Firstly, avoid stacking hot layers of cake on top of each other as they will trap heat within themselves and prevent proper cooling. Instead, place them separately on wire racks allowing air circulation around them. Secondly, if possible try positioning your newly baked treats near open windows where there's good ventilation but no direct sunlight.
Tips For Cooling Cakes Quickly
If you're in a rush and need your cake cooled quickly, there are several tips and tricks you can try.
Putting a cake in the refrigerator is an effective method to expedite its cooling process. Once the cake has finished baking, let it sit at room temperature for about 10 minutes before transferring it to the fridge. The cake should achieve complete cooling in no more than 30 minutes using this method. However, keep in mind that some cakes may become dry if left in the fridge for too long.
Another method is to use a fan or air conditioner. Place your cake on a cooling rack and set up a fan or air conditioner nearby with its highest setting turned on. The airflow will help reduce the temperature of the cake faster than simply leaving it out at room temperature.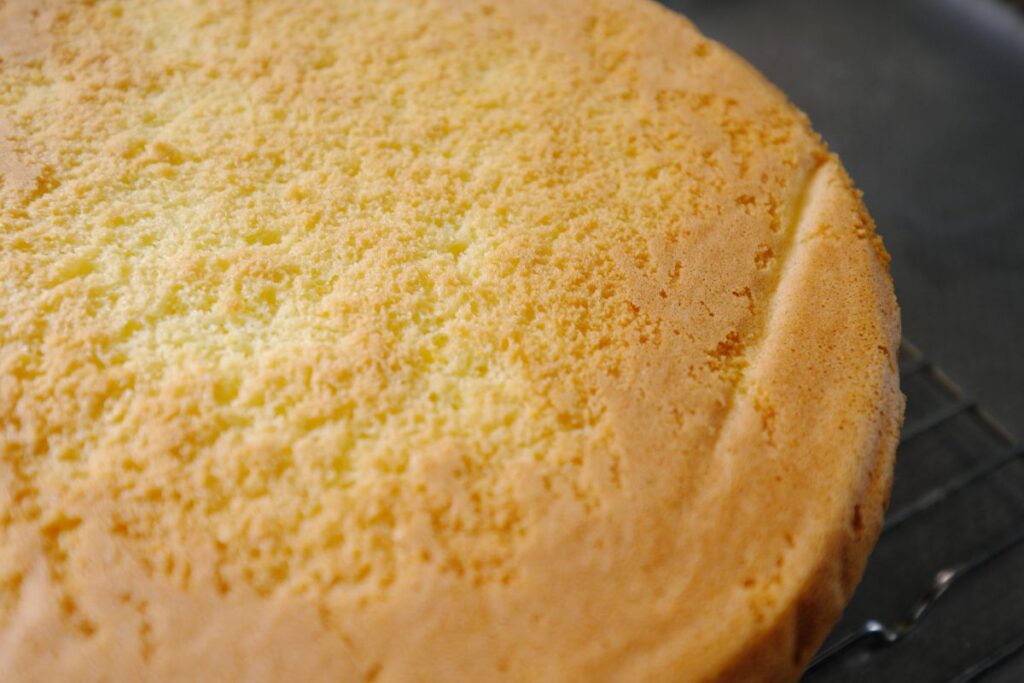 How To Tell When A Cake Is Cool Enough
Now that we know some tips for cooling cakes quickly, let's talk about how to tell when a cake is cool enough. It's essential to hold off until your cake has reached a cooled state before frosting it; otherwise, the frosting will melt and slide off.
First of all, make sure to take the cake out of the pan after 10 to 20 minutes after it's finished baking. If left in the pan excessively, condensation could accumulate on the underside, resulting in a damp cake. Utilize a knife or spatula to ease the sides and then carefully flip it onto a wire rack.
To cool your cake even faster, consider positioning it in the fridge or freezer for a couple of minutes. Just be careful not to leave it in there too long or else it might become too hard and difficult to frost.
A good rule of thumb to determine if your cake is ready is to touch the top lightly with your finger – if it springs back up right away without leaving an indentation, then it's probably cool enough. An alternate method involves poking a toothpick into the cake's middle – if it emerges batter-free and clean, your cake is prepared!
Remember: patience is key when waiting for your cake to cool. Rushing things could lead to disaster (and a less-than-perfect dessert). So take your time, follow these tips, and enjoy a perfectly frosted and deliciously moist cake!
Storing Cakes After Cooling
Now that your cake is fully cooled, it's time to think about storing it. If you plan on enjoying it within a day or two, simply cover with plastic wrap and store at room temperature away from direct sunlight. Nonetheless, if your goal is to prolong its freshness, it's ideal to store it in the refrigerator. Encase it securely with cling film or place it in a sealed container, and it can be kept in the fridge for a duration of up to five days.
When taking your chilled cake out of the refrigerator, allow it to rest at ambient temperature for roughly half an hour prior to serving. This allows time for the flavors and textures to return to their optimal state without being too firm or cold. Remember, proper storage ensures maximum freshness and flavor while keeping your baked goods safe from spoilage!
Frequently Asked Questions
Can You Speed Up The Cooling Process By Putting The Cake In The Fridge?
Yes, to speed up the cooling process of your freshly baked cake, you can place it in the fridge for a brief period. However, while this may seem like an efficient solution, it's important to remember that every cake is unique and requires different handling methods. Some cakes may not respond well to being chilled while others will thrive with the added coolness.
How Long Should You Wait Before Frosting A Cooled Cake?
As a rule of thumb, it's advisable to allow your cake to fully cool down prior to applying any icing or embellishments. This will provide ample time for it to stabilize and solidify so that it can support the weight of whatever toppings you choose to add.
Can You Eat A Cake That Hasn't Fully Cooled?
Letting the cake cool fully ensures its texture and flavor are at their best. However, if you simply can't wait for your cake to fully cool before taking a bite, go ahead – just be prepared for a slightly different taste and potential messiness. Remember, baking is all about freedom and creativity, so don't feel constrained by rules or timelines – embrace your inner baker and enjoy the process!
Is It Okay To Cut Into A Cake While It's Still Warm?
Cutting into a cake while it's still warm can be tempting, but it's important to exercise patience in the baking process. Waiting for your cake to cool allows for proper texture and flavor development. Not only will cutting into a warm cake result in an unappealing appearance, but it may also compromise its structural integrity. To ensure that you get the most out of your delicious dessert, resist the urge to slice into it too soon and let it cool completely before serving. Trust me, the wait is worth it!
Conclusion
In the realm of cake baking, the cooling phase can be as significant as the baking itself. Yet, what is the true duration required for a cake to cool down? Well, that depends on several factors such as the type of cake and your desired outcome.
If you're in a hurry, placing your cake in the fridge or freezer can help speed up the cooling process. Nevertheless, it's crucial to allow your cake to completely cool down prior to icing it or slicing into it.
While warm cake may seem tempting, waiting until it has cooled will result in better texture and taste. So sit back with a cup of tea and wait patiently for your delicious creation to reach its optimal temperature. Happy baking!