Today, we'll explore how many tablespoons are in a cup of butter. Ever found yourself short on butter during baking or struggled with recipe conversions? Worry not; We'll guide you through this common kitchen challenge.
Understanding these conversions is essential for home cooks and bakers. It saves time, reduces frustration, and allows for culinary experimentation without measurement worries. Get ready to feel like a master chef as we delve into the details. Let's grab our measuring cups and spoons and embark on this flavorful journey!
If you enjoy such helpful kitchen guides, check out this guide on how long does it take for cake to cool or how to convert 100 grams to cups!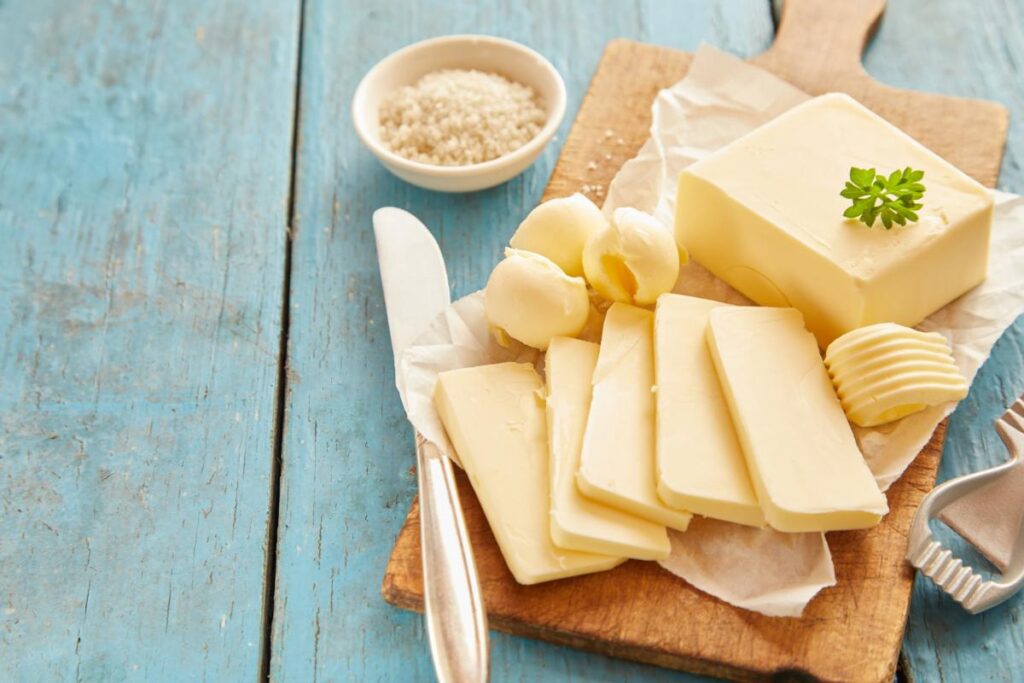 Understanding Butter Measurements
Step into our kitchen, where we'll unravel the mysteries of measuring butter.
Let's focus on solid butter for now. A cup of solid butter amounts to 16 tablespoons. That's right, a neat conversion to keep in mind.
But here's the best part: if you require less than a full cup, you can easily measure smaller portions using tablespoons. Just divide the 16 tablespoons in a cup by the fraction you need. For instance, half a cup of butter equals 8 tablespoons (16 divided by 2). You'll achieve perfectly measured butter every time, with no need for guesswork.
Join us in our kitchen, where precise butter measurements await!
How to Convert Cups to Tablespoons
Let's explore the craft of converting cups to tablespoons for accurate measurements. This knowledge comes in handy when you have a cup measurement but need to determine the corresponding amount of tablespoons.
Start by remembering that one cup of butter equals 16 tablespoons. Armed with this information, let's uncover some common conversions:
Half a cup (8 tablespoons) equals 4 ounces.
One-third of a cup (5 tablespoons + 1 teaspoon) equals 2.66 ounces.
One-fourth of a cup (4 tablespoons) equals 2 ounces.
And, of course, one tablespoon equals 0.06 cups.
Imagine you need two tablespoons of butter but only have a measuring stick marked in cups. No worries! Use the conversion rates provided above to determine the precise amount of butter required.
Using a Kitchen Scale for Accurate Measurements
Let's explore the benefits of using a kitchen scale for accurate measurements in your culinary endeavors. Imagine yourself in the kitchen, ready to measure ingredients for a delectable recipe.
When it comes to butter, you may wonder about the precise conversion from tablespoons to cups. Fear not! The solution lies in utilizing a kitchen scale.
To determine the quantity of butter in one cup, start by placing an empty measuring cup on the scale and resetting it to zero. Then add sticks of butter until you reach the desired one-cup mark, typically four sticks or 16 ounces.
Once you've achieved the desired measurement, effortlessly remove any excess butter from the top using a knife or spatula.
By relying on a kitchen scale, you ensure precise measurements without the need for guesswork regarding tablespoon-to-cup conversions.
Additionally, you save on dishwashing since you won't require multiple measuring utensils. So, the next time you find yourself immersed in culinary creations, remember to harness the power of your trusty kitchen scale for impeccable precision!
Tips for Measuring Butter
Now that you've learned about using a kitchen scale for precise measurements, let's focus on mastering the art of measuring butter.
Wrapper Wisdom: Most butter sticks are equipped with convenient measurement markings on the wrapper. Whether you're seeking a tablespoon or half a cup, these indications are a baker's best friend.
The Soften Strategy: Cold, hard butter can be challenging to measure accurately. Allow it to sit at room temperature for roughly 30 minutes to soften. This ensures easier and more precise portioning.
Trust the Tools: Invest in quality liquid measuring cups and spoons. Their clear markings ensure you're getting the exact amount your recipe demands.
Cup to Tablespoon Translation: A frequent query in baking – "How many tablespoons make a cup of butter?" The magic number is 8. Keeping this in mind will make recipe conversions a breeze.
Remember Consistency: Different recipes might demand butter in various states – melted, softened, or chilled. Ensure you measure the butter in the state the recipe specifies for optimal results.
Be Bold but Balanced: While accuracy is crucial, don't be afraid to trust your instincts. Sometimes, a tad more butter might just make your dish a tad more delightful. Embrace the journey of culinary exploration.
Common Mistakes to Avoid When Measuring Butter
Now that we've learned how to soften butter quickly, let's ensure our measurements are accurate. One mistake to avoid is not knowing the precise number of tablespoons in a cup of butter, which can lead to undesirable outcomes in your culinary endeavors.
To clarify, there are 16 tablespoons in one cup of butter. If you're using butter sticks instead of a measuring cup, each stick contains 8 tablespoons.
Here are some helpful tips for accurate measurements:
Utilize a kitchen scale: Weighing butter provides the most precise results.
Ensure your scale is properly calibrated before use.
Determine the necessary quantity according to your recipe.
Utilize tablespoon markings: If a kitchen scale is unavailable, use measuring spoons with clear tablespoon markings.
Soften the butter beforehand to easily fill the entire tablespoon.
Level off any excess with a knife.
By following these guidelines and understanding the tablespoon-to-cup ratio, you'll confidently tackle any recipe that calls for butter, ensuring delightful and delectable results. Happy cooking!
Mastering Butter Measurements: Perfecting Your Baking Skills
With a solid understanding of the tablespoon-to-cup conversion for butter, let's delve into the art of achieving flawless measurements for all your baking endeavors. It's crucial to recognize that various recipes may necessitate different units of measurement for butter, such as sticks instead of cups or tablespoons.
Familiarizing yourself with these conversions ensures accurate amounts and impeccable texture and flavor in your creations.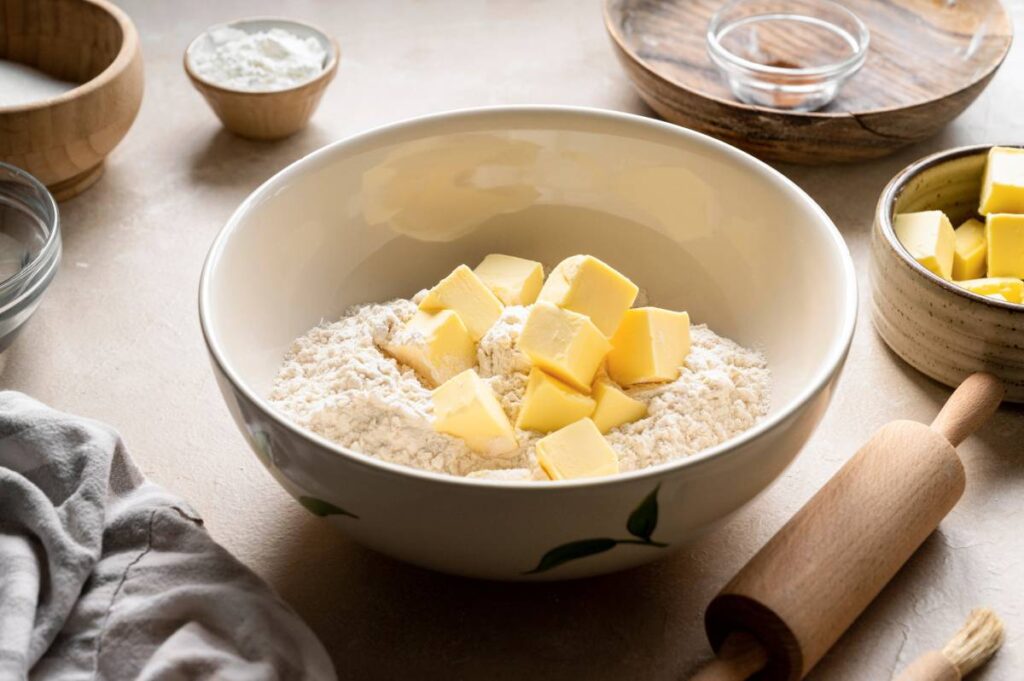 By internalizing these fundamental conversions, your baking experiences will become seamless, granting you the confidence to explore new flavors and techniques with ease. Enjoy your culinary adventures to the fullest!
FAQs
How long can butter be stored in the fridge before it goes bad?
Butter can typically be stored in the fridge for about two weeks before it starts to go bad. However, if you prefer, you can extend its shelf life by freezing it. This allows you to enjoy fresh butter for several months without worrying about spoilage or waste.
Can margarine be substituted for butter in baking recipes?
Yes, margarine can be used as a substitute for butter in baking recipes. Remember, margarine contains more water, which could alter the consistency of your baked items. Choose a high-quality brand and check the ingredient list for any additives that could impact taste or texture.
Is there a difference in measurement between salted and unsalted butter?
Yes, there is a difference in measurement between salted and unsalted butter. To ensure consistent results in your baking, it's recommended to use unsalted butter and add salt separately according to your recipe's instructions. Remember, exploring different ingredients and techniques is part of the joy of cooking!
Can butter be frozen for long-term storage?
Absolutely! Freezing butter is an excellent method for long-term storage. Encase it securely in cling film and store it in a sealed container prior to freezing. When you need it, thaw the desired amount in the refrigerator overnight.
How can I tell if my butter is still fresh and usable?
To verify if the butter is still fresh, check the expiration date on the packaging. Next, give it a sniff – if it smells rancid or sour, it's time to discard it. You can also test its freshness by pressing your finger into the butter. If it leaves an indentation without sinking too far, it's still good to use.