Understanding the conversion between grams and cups is a valuable skill for anyone who loves cooking and baking. When following a recipe, you may come across measurements in grams but find yourself more comfortable working with cups. This is where knowing how to convert grams to cups becomes essential.
Today, we will look at converting 200 grams to cups, providing a step-by-step guide and helpful tips to ensure accurate conversions in various cooking scenarios.
If you like helpful posts like this one, check out this guide on how long it takes to cool a cake or how to make perfect chocolate pancakes!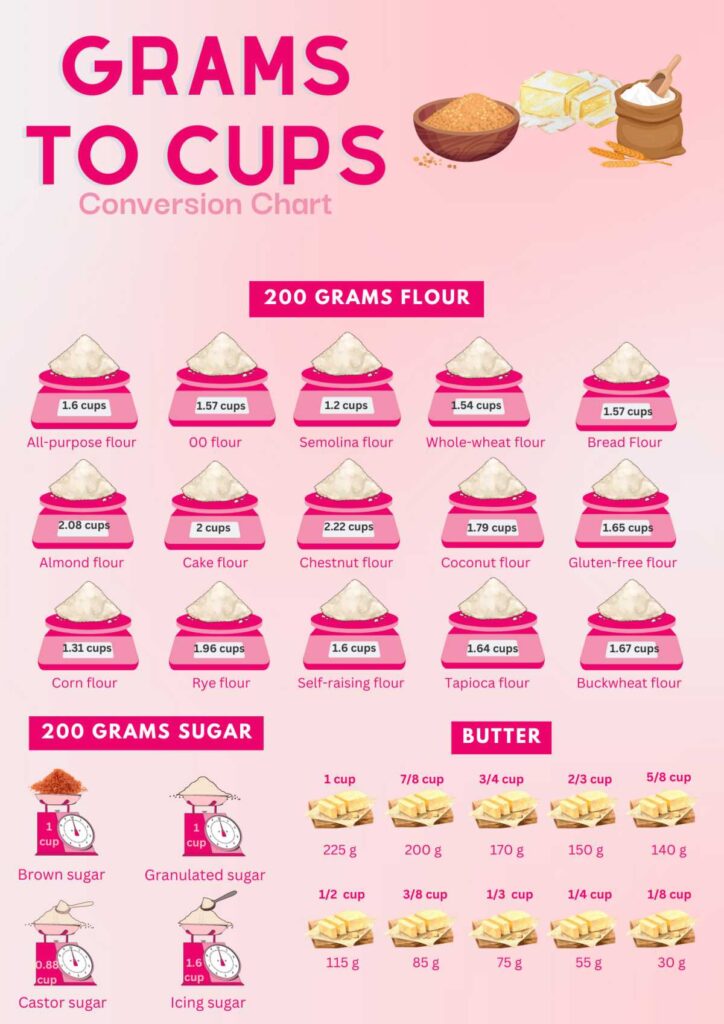 This technique will help you to achieve precise measurements for a wide range of ingredients. Get ready to unlock the secrets of converting grams to cups and elevate your culinary adventures to new heights.
Understanding the Basics: Grams and Cups Explained
These two standard units of measurement, grams and cups, are frequently encountered in recipes. Grams are used to measure dry or solid ingredients, while cups are used for liquids and bulkier items.
Grams (g) are metric units of weight, providing precise measurements for ingredients like flour, sugar, and butter. Cups (c), on the other hand, are a unit of volume and are used for liquids and ingredients such as fruits and vegetables. However, grams and cups cannot be interchanged without proper conversion due to variations in ingredient density.
Use the below calculator to convert the most common ingredients easily!
Consider the specific ingredient being measured to convert grams to cups and vice versa. Conversion factors vary depending on density, so consult a conversion chart or use online tools for accurate conversions.
Using a kitchen scale for weighing ingredients in grams ensures precise measurements. Understanding grams and cups empowers home cooks to confidently navigate recipes from different regions and adapt them to their preferences or dietary needs. Mastering these measurement units opens up a world of flavors and enables the creation of delicious dishes with confidence and precision.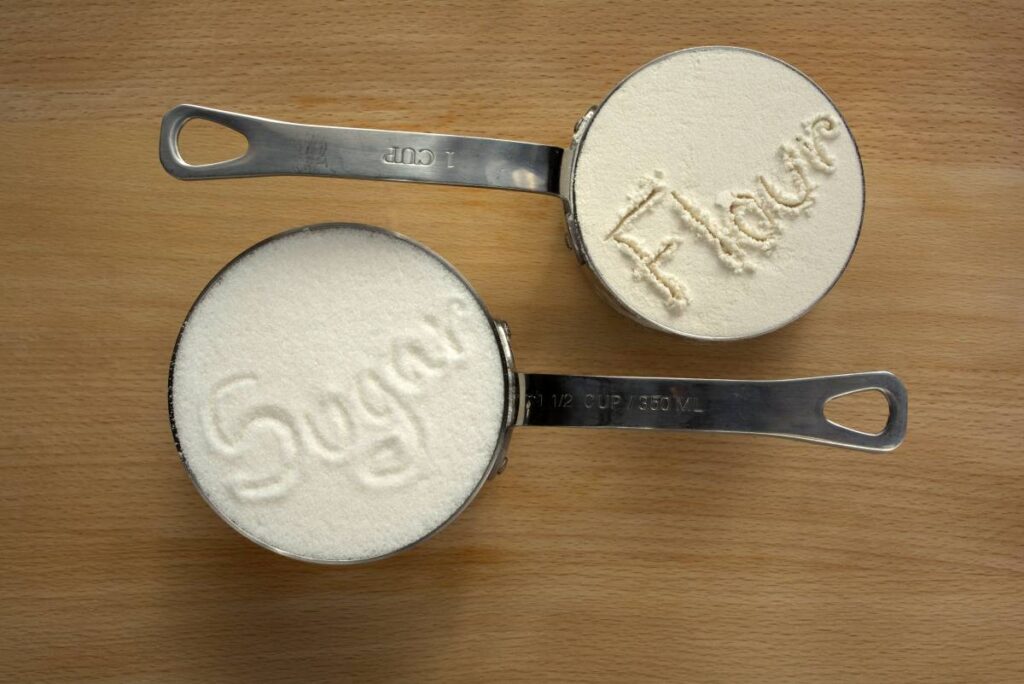 The Importance of Accurate Measurements in Cooking
Accurate measurements play a vital role in the art of cooking. Cooking is a delicate balance of flavors and techniques, and accurate measurements maintain balance.
Accurate measurements maintain the delicate balance of flavors and techniques in cooking.
Measurements dictate the proportions in a recipe, ensuring the right amount of each ingredient.
Precise measurements contribute to the perfect balance of flavors and desired texture and structure in dishes.
Consistent measurements allow for replicating flavors and serving delicious meals consistently.
Accurate measurements are crucial when scaling recipes to maintain ingredient ratios and ensure consistent results.
Meticulously following measurements showcases professionalism and attention to detail in the culinary world.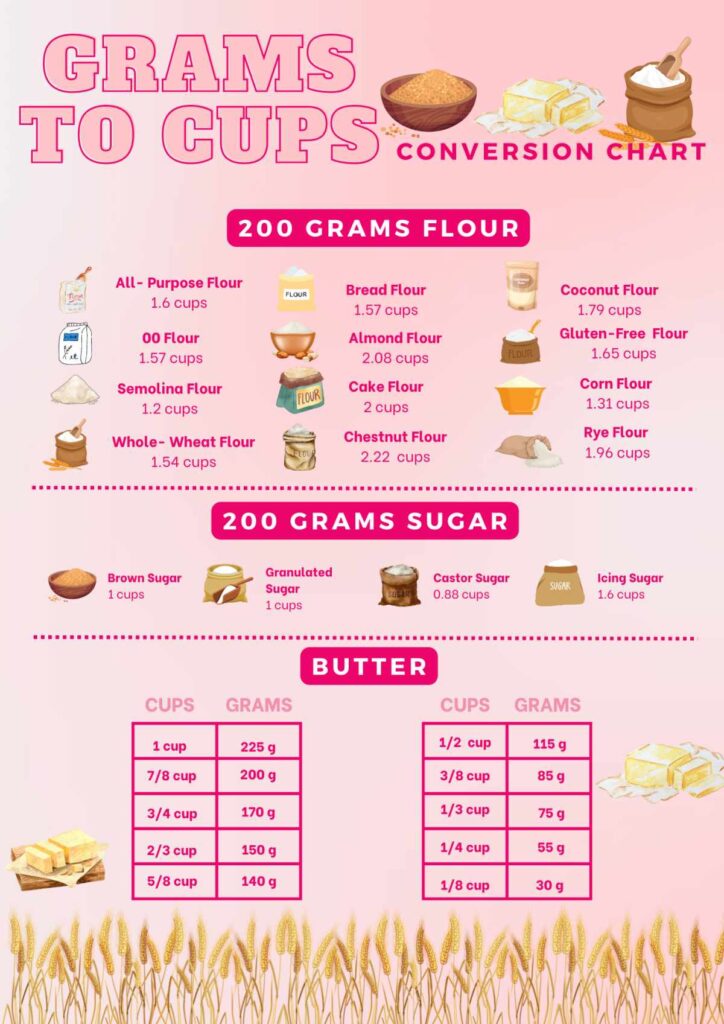 Converting 200 Grams to Cups: A Step-by-Step Guide
Converting measurements is expected in the culinary world, especially when converting grams to cups. If you're faced with a recipe that lists ingredients in grams and prefers to work with cups, fear not!
Step 1: Understand the Ingredient
Before diving into the conversion process, knowing the specific ingredient you're working with is crucial. Different elements have varying densities, meaning 200 grams of one component may not be equivalent to 200 grams of another. Familiarize yourself with the ingredient's characteristics to ensure accurate conversion.
Step 2: Consult a Conversion Chart or Ratio
To convert 200 grams to cups, you'll need a reliable conversion chart or ratio. These handy references provide the necessary conversion factors to measure the appropriate cup. Seek out a trusted culinary resource or utilize online conversion tools that offer accurate conversions specific to your ingredient.
Step 3: Determine the Conversion Factor
The conversion factor will vary based on the ingredient's density and your specific conversion chart or ratio. For instance, if the conversion factor for your ingredient is 1 gram = 0.004 cups, multiplying 200 grams by the conversion factor will yield the cup measurement. In this case, 200 grams multiplied by 0.004 equals 0.8 cups.
Step 4: Consider Precision and Rounding
Depending on the desired precision and the practicality of measuring small quantities, deciding whether rounding the cup measurement is necessary is essential. In our example, 0.8 cups may be rounded to 3/4 cup or 1 cup, depending on your preference and the precision required for your recipe.
Step 5: Apply the Conversion
Now that you have determined the appropriate cup measurement for 200 grams, it's time to apply the conversion to your recipe. Adjust the ingredient quantity accordingly, using the converted cup measurement to replace the original gram measurement.
Step 6: Double-Check for Consistency
After converting 200 grams to cups, double-check the rest of your recipe for consistency. Ensure that all other ingredient measurements align with the chosen unit of measure (grams or cups) to maintain accuracy throughout the cooking or baking process.
Following this step-by-step guide, you can confidently convert 200 grams to cups for various recipe ingredients. Remember to consult reliable conversion references, consider rounding if necessary, and maintain consistency in your measurements. With accurate conversions, you can successfully achieve desired culinary outcomes and easily create delicious dishes.
200 Grams to Cups in Different Ingredients
I often need to convert ingredient weights from grams to cups when cooking or baking. While it's important to understand that grams and cups are not interchangeable units, a conversion chart can be helpful for commonly-used ingredients.
In general, it isn't easy to give an exact conversion rate for all ingredients since the volume of 200 grams varies depending on the ingredient's density. However, I will provide some examples of different elements and their approximate conversions from 200 grams to cups:
Water: 200 grams of water is almost equal to 7/8 cups. This is because water has a nearly 1:1 ratio between grams and milliliters.
Flour: To convert flour from grams to cups, I've found that the density of most flour is about 0.6-0.7 grams per milliliter.
Sugar: Converting sugar from grams to cups depends on the type of sugar. For granulated sugar, 200 grams is roughly 1 cup, while powdered sugar would be closer to 2 cups.
Butter: Butter has a density of about 0.9 grams per milliliter. Therefore, 200 grams of butter is around 0.9 cups or slightly less than a cup.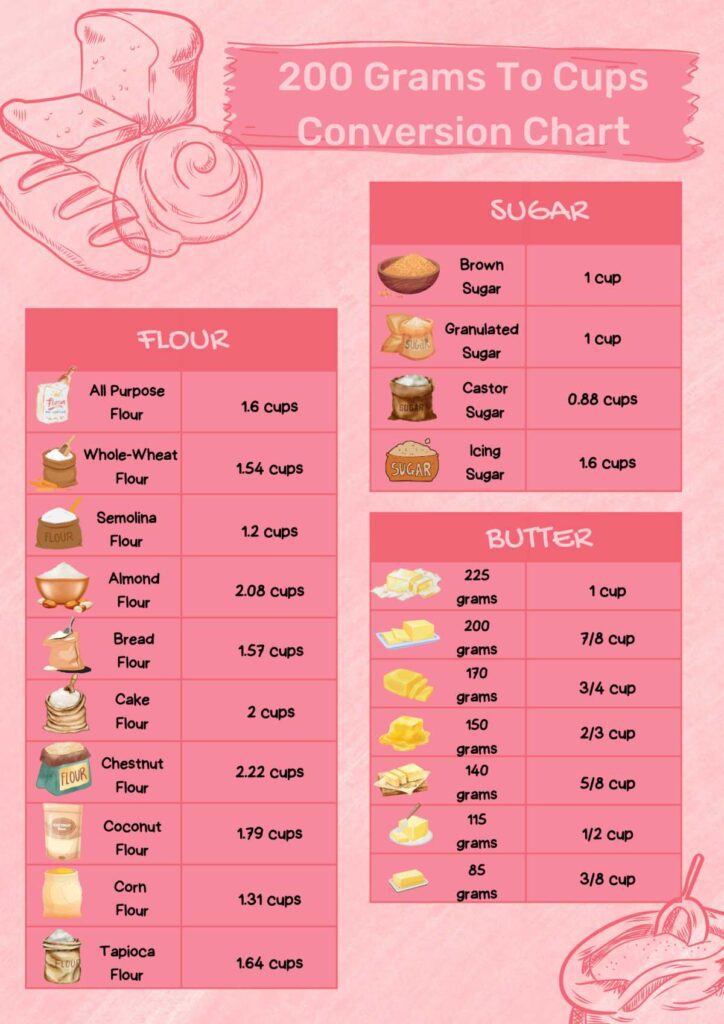 When converting from grams to cups, it's essential to consider the following factors:
Ingredient Density: The mass and volume relationship will differ for each ingredient, so always check the specific conversion for the ingredient you are working with.
Kitchen Scale: I recommend measuring ingredients using a kitchen scale to ensure accurate conversions between grams and cups. This ensures that you're using the correct amount for your recipe.
Unit of Volume: Cups are a unit of volume, whereas grams are a unit of weight. It's essential to recognize this difference when converting 200 grams to cups since some ingredients will weigh more or less than others.
Conversion Tools: I've found that using an online conversion calculator for grams to cups is incredibly helpful when working with different ingredients. These tools often have a wide variety of components pre-programmed, making the conversion process more straightforward.
Converting 200 grams to cups depends on the specific ingredient and its density. A kitchen scale and an online conversion calculator can make conversions more accurate and ensure your recipes turn out as intended.
The Difference Between Liquid and Dry Ingredients in Measurement
In cooking and baking, understanding the difference between measuring liquid and dry ingredients is essential for achieving accurate and successful results. While both types of ingredients contribute to a dish's overall flavor and texture, they require different measurement techniques due to their distinct properties.
Understanding Liquid Ingredients
Liquid ingredients include water, milk, oils, extracts, and other substances. These are fluid and cannot be easily leveled off like dry ingredients. Here's what you need to know when measuring liquids:
Use a clear liquid measuring cup: For measuring liquids; it's best to use a cup with volume markings on the side. This allows you to read the measurement at eye level accurately.
Fill to the appropriate line: To measure liquid ingredients accurately, pour them into the measuring cup and fill it to the marked line corresponding to the desired measurement. It's crucial to ensure the bottom of the liquid aligns with the line for precise measurement.
Account for meniscus: Liquid surfaces often have a slight curve, known as the meniscus. When measuring, read the measurement at the bottom of the curve to avoid errors. This can be achieved by checking that the liquid aligns with the marked line at eye level.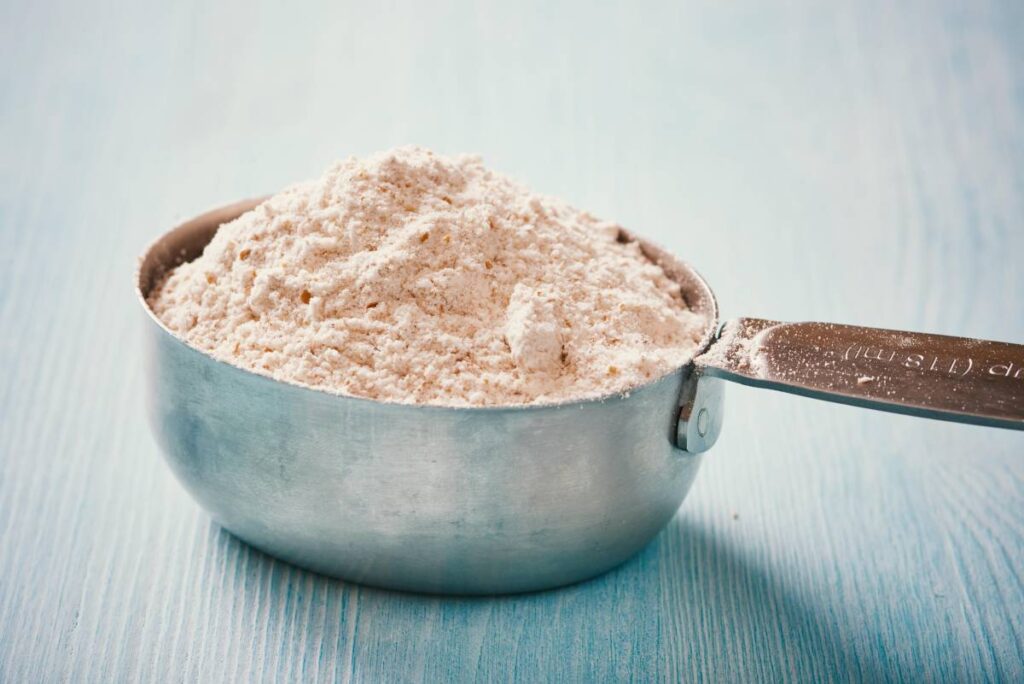 Measuring Dry Ingredients:
Dry ingredients include flour, sugar, salt, spices, and other powdery or granulated substances. Unlike liquids, dry ingredients can be leveled off to achieve accurate measurements. Below you will find a few valuable tips:
Use dry measuring cups: Dry ingredients should be measured using dry measuring cups, typically metal or plastic. These cups have straight sides, allowing you to trim the surplus with a flat instrument like a knife or spatula.
Spoon and level method: To measure dry ingredients accurately, spoon them into the measuring cup until it overflows slightly. Then, level off the excess by sweeping a straight edge across the top of the cup. This ensures a consistent and precise measurement.
Sift flour when necessary: When a recipe calls for sifted flour, it's crucial to sift it before measuring it. This aerates the flour and prevents it from compacting, resulting in a lighter measurement. After filtering, spoon the flour into the measuring cup and level it off.
Whether pouring liquid into a measuring cup or spooning and leveling dry ingredients, these tips will help you master the art of measuring for both liquid and dry recipes. Embrace precision in your cooking and baking, and elevate your culinary creations.
Converting 200 Grams to Cups in Various Cooking Scenarios
Converting measurements is a common task in the culinary world, and when it comes to converting 200 grams to cups, having the proper formulas can save you time and ensure accurate results. Whether working with different ingredients or scaling a recipe, understanding the conversion process is critical. In this article, we'll provide formulas to convert 200 grams to cups in various cooking scenarios, allowing you to adapt recipes confidently.
Converting 200 Grams of Dry Ingredients to Cups: Follow the below formula when converting 200 grams of dry ingredients, such as flour or sugar, to cups:
Cups = Grams / Conversion Factor
The conversion factor varies depending on the specific ingredient. Here are some common conversion factors for reference:
All-purpose flour: 1 cup = 120 grams
Granulated sugar: 1 cup = 200 grams
Brown sugar (packed): 1 cup = 220 grams
Butter: 1 cup = 227 grams
Milk: 1 cup = 240 grams
To convert 200 grams of a specific dry ingredient to cups, divide 200 by the corresponding conversion factor. For example, if you're converting 200 grams of all-purpose flour: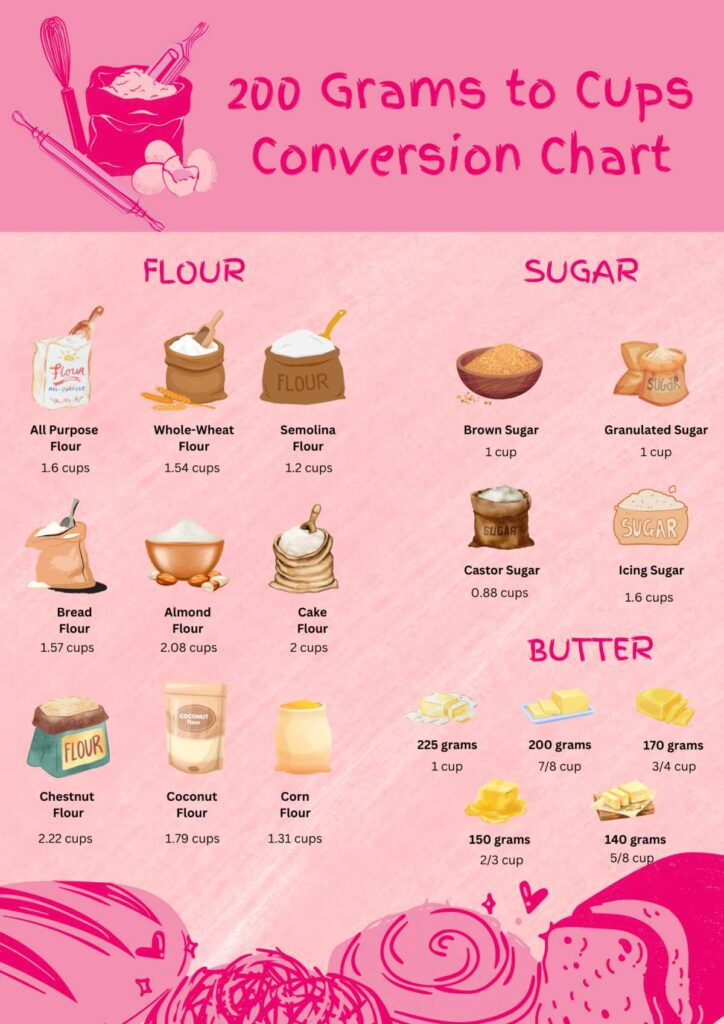 Cups of All-Purpose Flour = 200 grams / 120 grams per cup = 1.67 cups (approximately)
2. Converting 200 Grams of Liquid Ingredients to Cups: For converting 200 grams of liquid ingredients, such as water or milk, to cups, it's essential to know the density of the specific liquid. As the density of liquids can vary, a direct conversion may not always be accurate. However, assuming water-like density, you can use the following formula:
Cups = Milliliters (ml) / 240
Since 1 milliliter is equivalent to 1 gram for water-like density, you can convert 200 grams of water or similarly dense liquids as follows:
Cups of Water = 200 grams / 240 = 0.83 cups (approximately)
3. Scaling a Recipe by Converting 200 Grams to Cups: If you're scaling a recipe that calls for 200 grams of a specific ingredient that you wish to convert it to cups based on the specific ingredient's conversion factor, you can use the formula:
Cups = 200 grams / Conversion Factor
Simply divide 200 grams by the conversion factor for the ingredient to get the equivalent cup measurement. This allows you to maintain the original recipe's proportions while adapting it to a different measuring unit.
Remember to refer to reliable conversion charts or ingredient-specific conversion factors to ensure accuracy in your conversions.
Bottom Line
Using these formulas, you can confidently convert 200 grams to cups in various cooking scenarios. Whether working with dry or liquid ingredients or scaling a recipe, understanding the appropriate conversion factors empowers you to adapt recipes to your preferred measurements rapidly. Enjoy your culinary adventures with confidence and accuracy!