Today, we will delve into the conversion process from 100 grams to cups, focusing on the most popular kitchen ingredients. Understanding this conversion will help you follow recipes with ease and precision.
Converting measurements from grams to cups is an essential skill for any home cook or baker. Remember to refer to the below conversion tables, and if precision is paramount, rely on a digital scale for accurate measurements.
If you're looking for more useful cooking and baking tips, check out these guides on how to convert 200 grams to cups or how to make crème brûlée.
Understanding the Basics
If you're new to cooking or baking, you may wonder how to convert 100 grams to cups. So, let's start with a look into the basics of what a cup and a gram actually are.
If you're looking for a quick way to convert your basic kitchen ingredients, use this easy calculator!
What is a Cup?
A cup is typically used to measure liquid ingredients, but can also be used for dry ingredients. In the United States, a legal cup is equal to 240 milliliters or 8 fluid ounces. However, some recipes may call for a US-legal cup, which is slightly larger at 250 milliliters or 8.45 fluid ounces.
What is a Gram?
A gram is a unit of measurement for weight in the metric system. It is abbreviated as "g." The gram is used to measure the mass or weight of objects and ingredients. A gram is equivalent to a thousandth part of a kilogram or roughly 0.035 ounces in the system of imperial measurement.
The metric system, which includes the gram, is widely used around the world, particularly in scientific, culinary, and everyday measurements. In cooking and baking, grams are commonly used to measure ingredients with precision, ensuring consistent results in recipes.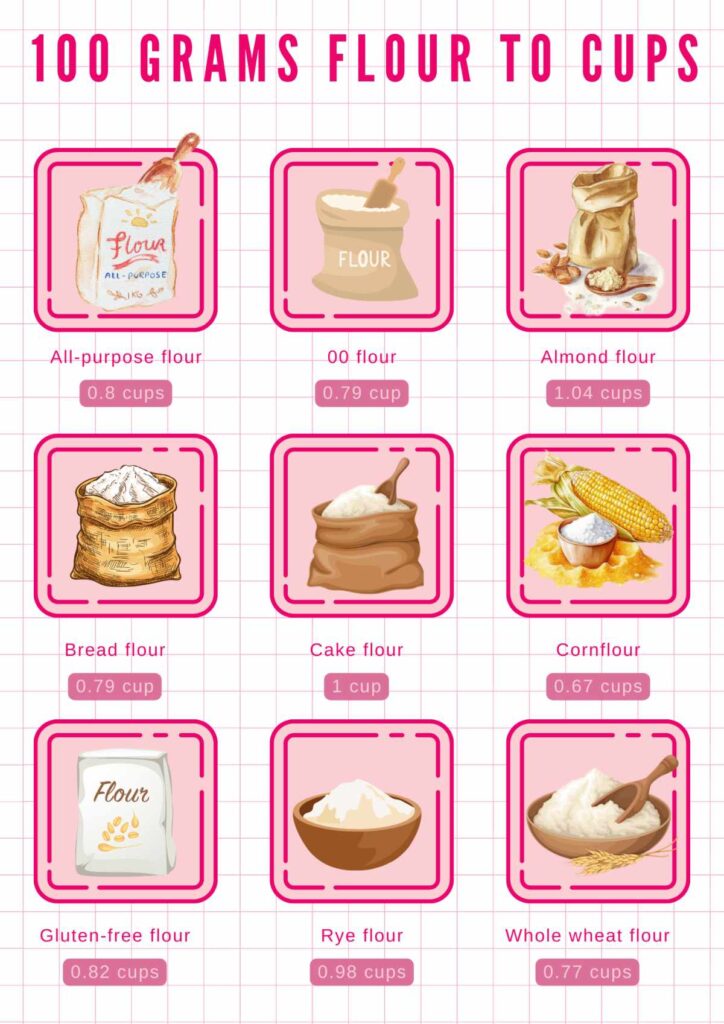 Understanding the Metric System and Converting Grams to Cups
The metric system provides a convenient way to measure ingredients precisely, and grams are commonly used for measuring weight. Cups, on the other hand, represent a volume measurement and are more prevalent in the customary cup system used in the United States. Converting grams to cups requires knowledge of the ingredient's density, which determines how much volume a certain weight occupies.
Grams to Cups Conversion for Common Ingredients
To convert 100 grams to cups, let's explore some frequently used ingredients and their conversions:
Granulated Sugar:

Conversion: 1 cup = 200 grams
Therefore, 100 grams of granulated sugar is equal to 1/2 cup.

Powdered Sugar:

Conversion: 1 cup = 120 grams
Thus, 100 grams of powdered sugar is approximately 4/5 cups.

Flour:

Conversion: 1 cup = 120-140 grams (depending on density and sifting)
For accurate measurements, it's recommended to weigh flour. However, as a rough estimate, 100 grams of flour is roughly 3/4 to 4/5 cups.

Butter:

Conversion: 1 cup = 227 grams
Therefore, 100 grams of butter is approximately 7/16 cups.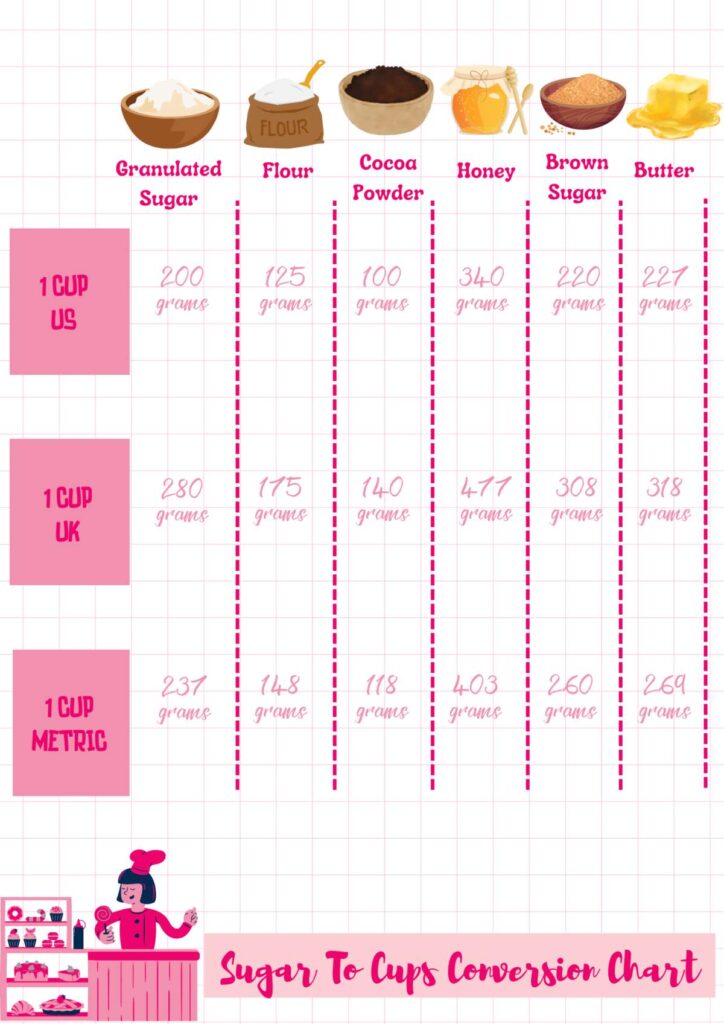 Note: It's important to note that conversion values may vary slightly depending on factors such as sifting, moisture content, and packing density. It's always advisable to refer to a conversion chart or the specific recipe for precise measurements.
Converting 100 Grams to Cups: The Conversion Table
To make conversions simpler, here's a conversion table for 100 grams to cups for various commonly used kitchen ingredients:
Conclusion
In conclusion, converting 100 grams to cups is a process that varies with different ingredients, reflecting their unique densities and characteristics. Understanding these conversions empowers you to follow and adapt recipes with greater accuracy and confidence.
Always remember that these values are approximations and may vary with specific conditions and ingredients, so referring to a conversion chart or the particular recipe can provide the most precise measurements. Happy cooking and baking!