Get ready for a delicious adventure with 10 amazing Protein Pop-Tarts you won't want to miss! This list is for you if you love tasty treats and staying healthy.
We've found the best Pop-Tarts loaded with protein to keep you satisfied and guilt-free. From classic flavors like chocolate and vanilla to exciting combos like peanut butter, banana, cookies, and cream, there's a Pop-Tart to suit everyone's taste.
If you love discovering new desserts, check out Best Apricot Cake Recipe, How To Make Peppermint Cookies With Chocolate Chips, and Cherry Pie Cheesecake Tarts!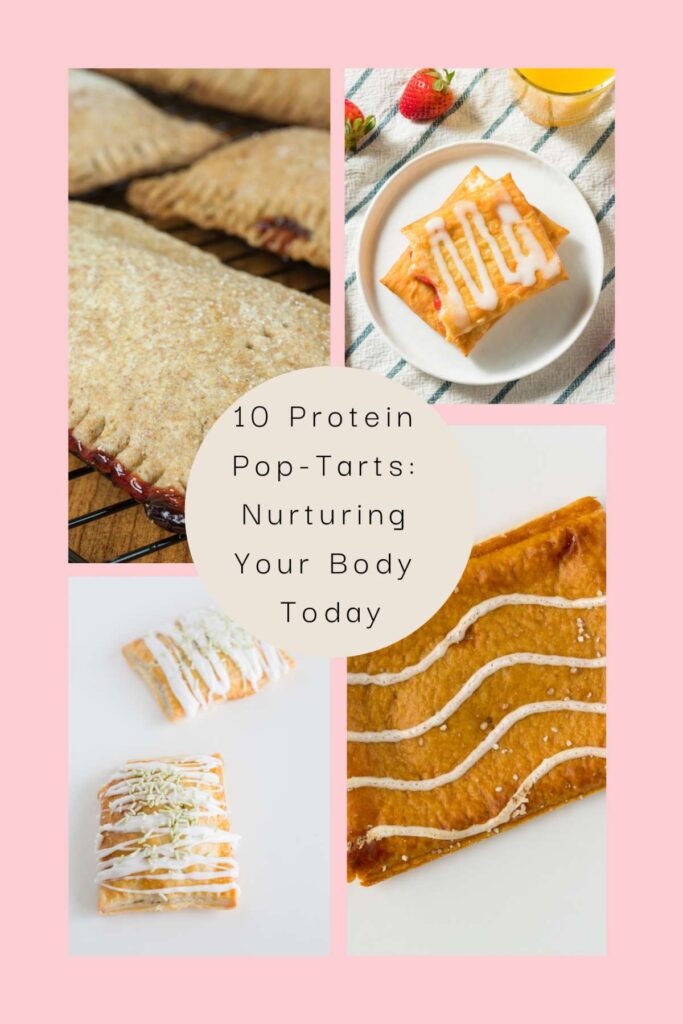 Whether you're a fitness buff needing a post-workout snack or want a yummy protein boost, these Pop-Tarts are a must-try. Join us as we explore the tastiest and healthiest Protein Pop-Tarts available – get ready to indulge without any worries! If you want to explore more recipes, check out this guide about Gluten-Free Pop Tarts.
Table of Contents
Indulge in the delightful taste of Brown Sugar Cinnamon Protein Pop-Tarts! These yummy treats blend the sweetness of brown sugar and the warmth of cinnamon in a flaky golden crust. The best part? They're loaded with protein so that you can enjoy them guilt-free.
Grab them for a quick breakfast or a tasty snack anytime. These Protein Pop-Tarts have covered you whether you need a little boost during the day or after a workout. They satisfy your cravings and give you the energy you need.
Get ready to enjoy the goodness of childhood flavors more healthily. So take a bite, and treat yourself to the goodness of Brown Sugar Cinnamon Protein Pop-Tarts!
Meet the Single-Serve Vanilla Protein Pop-Tart – a scrumptious treat that combines vanilla's timeless flavor with a healthy protein boost! It's a perfect snack on the move or a quick breakfast when you're in a rush.
With its soft pastry and smooth vanilla filling, this Protein Pop-Tart satisfies your sweet cravings and energizes you with its protein goodness. Whether off to the gym, heading to work, or taking a break, this single-serving delight is a tasty and convenient choice.
Indulge in the familiar vanilla taste while making a smart choice for your health. The Single-Serve Vanilla Protein Pop-Tart is a guilt-free treat that's sure to become your favorite go-to snack whenever you crave something delicious and nutritious!
Introducing the fantastic 10 Gram Protein PopTarts – your new go-to for a super scrumptious and healthy treat! These bad boys are not your ordinary toaster pastries; they're the ultimate fusion of deliciousness and nutrition. Picture this: a mouthwatering snack that pumps up your energy and keeps you satisfied all day!
Say goodbye to those sugar-laden PopTarts of the past. With these protein-packed delights, you get to indulge without guilt! They're perfect for active folks like gym buffs or anyone who craves a delightful protein boost. Choose from amazing flavors like chocolate, strawberry, and vanilla – each an explosion of yum!
Don't let your taste buds miss out on the party. Grab these little protein powerhouses and treat yourself to a mouthful of joy. Whether on the move or taking a break, these 10 Gram Protein PopTarts have your back – and your belly!
Alright, listen up, amigos! It's time to get excited about the epic creation known as Taco Pop-Tarts! Brace yourself for a taste sensation – these babies are not your typical sweet treats. We're talkin' about a wild fusion of toaster pastries and the mouthwatering goodness of Tacos!
A flaky, crispy crust loaded with juicy seasoned beef, ooey-gooey cheese, zesty salsa, and a sprinkle of fresh cilantro. Forget boring breakfasts; Taco Pop-Tarts are here to save the day, and they're perfect for any time – be it brunch, lunch, or a sneaky midnight snack.
Who said Pop-Tarts had to be sweet all the time? It's time to shake things up and add a little spice to your life with these flavor-packed wonders. So, why wait? Snag a box of Taco Pop-Tarts and brace for a flavor ride.
Reese's Uncrustable Protein Pop Tarts are a tasty and convenient snack that combines the flavors of peanut butter cups with a sandwich. They are like Pop-Tarts, but with yummy peanut butter and chocolate filling inside a flaky crust.
The best part is that they are packed with protein, which helps keep you full and gives you energy. So, they're delicious and a better choice than sugary pastries.
Whether you're in a rush or need a quick pick-me-up, these Pop-Tarts are a great option. They're perfect for busy people, students, or parents who want a quick and tasty snack. Enjoy the sweet and savory goodness of Reese's Uncrustable Protein Pop-Tarts anytime, anywhere!
The Healthy Frosted Raspberry Protein Pop Tart is a yummy and good-for-you version of the classic toaster pastry. It's filled with raspberries' real and tangy taste, making it a delightful treat for your taste buds.
What makes this Pop Tart special is that it's not like the sugary ones you might be used to. It's made with healthier ingredients and has lots of protein, which is great for your body. The crust is made from whole grains and natural stuff, making it a smart choice for a balanced diet.
So, if you want a tasty snack or a quick breakfast that won't make you feel guilty, this Healthy Frosted Raspberry Protein Pop Tart is the way to go. Enjoy the sweet and fruity goodness while knowing you're making a better choice for yourself. It's a win-win!
Vegan Pop Tarts with Strawberry Filling is a yummy twist on the classic breakfast treat, perfect for those who care about their health and the planet. These tasty pastries are made with plant-based ingredients, so no animals are involved.
The crust is baked just right, giving it a nice, flaky texture that perfectly matches the delicious strawberry filling. The filling is made from real, sweet strawberries grown on sustainable farms. It's all-natural and doesn't have any artificial stuff in it.
Choosing these Vegan Pop Tarts means enjoying a tasty treat without feeling guilty. Plus, you're helping the environment by supporting a more eco-friendly way of eating. So, whether you have them for breakfast or as a snack, these Vegan Pop Tarts with Strawberry Filling are a yummy and responsible choice for everyone.
Protein Pop-Tart Cakes are a tasty treat that also boosts your body's protein. They're like regular pop-tarts, but better for you!
The outside of the cake is soft and moist, just like a pop-tart crust. Inside, there's a yummy layer of protein filling in flavors like chocolate, vanilla, and peanut butter. This filling makes the cakes taste great and helps your muscles stay strong and healthy.
Whether you've just finished a workout or need a snack during the day, Protein Pop-Tart Cakes is a yummy and nutritious choice. You can enjoy them without feeling guilty because they're good for you! So savor these cake-like pop-tarts while giving your body the protein it needs.
Vitafiber Protein Pop Tarts are a yummy and healthier version of the classic treat. They're made with Vitafiber, a natural sweetener that's good for you.
The pop tart's outside is soft and delicious, just like the regular ones. But inside, there's a special filling packed with protein. It comes in different tasty flavors that you'll love.
These pop tarts are guilt-free, meaning you can enjoy them without feeling bad. They're great for anyone wanting a sweet treat while still eating healthy. Plus, they give you extra protein and fiber, which are good for your body.
Whether you have them for breakfast or as a snack, Vitafiber Protein Pop Tarts are a tasty and nutritious choice. So grab one and enjoy the goodness in every bite!
Mixed Berry Collagen Pop Tarts combine the deliciousness of mixed berries with the added benefits of collagen. These scrumptious treats are a delightful way to indulge in a sweet treat while promoting healthy skin, hair, and nails.
The pastry's crust is flaky and flavorful, and inside, you'll find a delightful filling made from a blend of juicy mixed berries. What sets these pop tarts apart is the addition of collagen, a natural protein that supports skin elasticity and overall skin health.
With each bite, you're savoring the delightful taste of mixed berries and giving your body a boost of collagen goodness. Whether you enjoy them as a morning treat or a snack throughout the day, Mixed Berry Collagen Pop Tarts offer a guilt-free pleasure that also cares for your beauty from within. Treat yourself to these collagen-infused delights for a satisfying and nourishing experience.
Conclusion
Alright, listen up, protein lovers! Brace yourselves for a flavor fiesta like no other. We've got 10 spectacular Protein Pop-Tarts that you cannot miss! Picture this: the classic toaster pastry we all adore, now turbocharged with a mega dose of protein goodness. It's like a dream for your taste buds and muscles.
Think velvety chocolate, peanut butter, and a wild berry dance party wrapped up in a sweet, handheld package. But wait, there's more! These Pop-Tarts are pumped with powerful proteins like superhero whey, trusty plant blends, and superhero nut butter fillings.
Whether you're rockin' the gym or need a pick-me-up, these bad boys have your back. They're perfect for breakfast, a snack attack, or a well-deserved treat without guilt.
So, put down that boring snack and pick up these epic Protein Pop-Tarts. Embrace the protein-packed joyride and indulge your taste buds like never before! Trust us. It's a flavor adventure you'll cherish!