Embark on a tasty journey with these "12 Pop Tarts Delights: Gluten-Free Delicious Recipes." If you can't have gluten but still crave yummy treats, you're in for a treat yourself!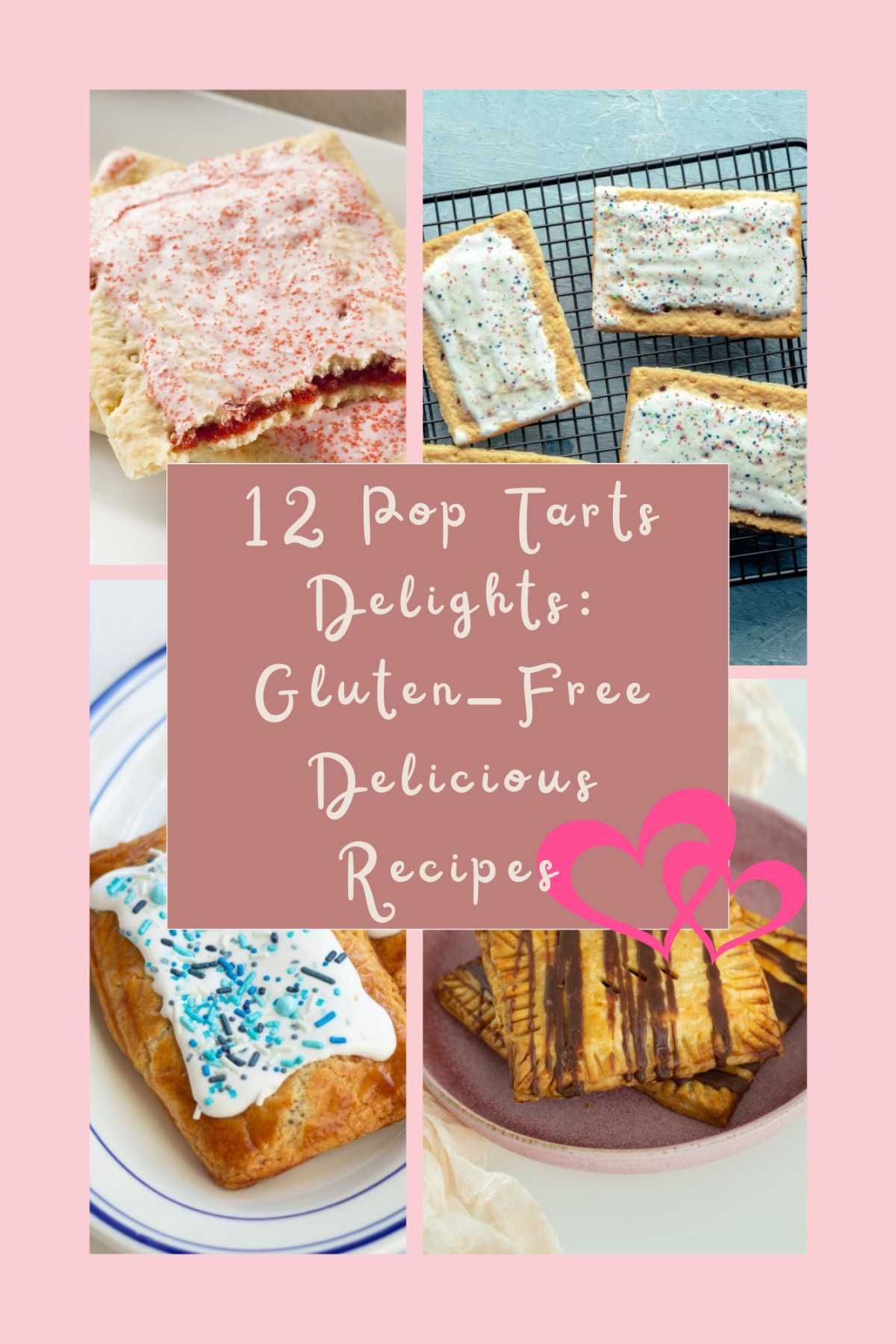 Inside, you'll find many awesome recipes for gluten-free Pop-Tarts. These aren't just any Pop-Tarts – they're bursting with flavors like juicy fruits and gooey chocolate. For breakfast or dessert, we've got you covered.
We've worked hard to ensure these recipes taste great and suit your gluten-free needs. You won't miss out on the fun or flavor. Each bite blends wholesome ingredients and cool cooking tricks that make your taste buds happy.
If you love discovering new desserts, check out Best Apricot Cake Recipe, How To Make Peppermint Cookies With Chocolate Chips, and Cherry Pie Cheesecake Tarts!
So, get ready to enjoy Pop-Tarts like never before. "12 Pop Tarts Delights: Gluten-Free Delicious Recipes" is your guide to scrumptious, gluten-free goodness that brings a smile with every bite.
Table of Contents
Introducing our amazing Gluten-Free Hand Pies, a modern twist on the classic pop tart. These cute treats are perfect if you can't have gluten but still want deliciousness. Imagine a yummy pastry that's super flaky on the outside and filled with tasty stuff on the inside.
You'll find different flavors to enjoy – like real fruity ones that burst with goodness and even chocolatey ones for when you need something sweet. Every hand pie is made carefully, so each bite has different flavors and feels nice.
And guess what? These Gluten-Free Hand Pies are made especially for folks who need to avoid gluten so that they can snack happily. They're great for quick breakfasts or as a treat anytime. So grab one (or a few) and dig into the yumminess of Gluten-Free Hand Pies!
Indulge in a chocolate lover's paradise with our Gluten-Free Triple Chocolate Pop Tarts. These treats take the regular pop tart to a new level of chocolaty goodness.
A flaky gluten-free crust filled with three layers of chocolatey awesomeness. You've got a creamy chocolate filling, smooth chocolate ganache, and a sprinkle of chocolate chips in one tasty bite.
Whether you're a morning person or a late-night snacker, these Triple Chocolate Pop-Tarts are perfect for any time of day. Plus, they're gluten-free so that everyone can enjoy the chocolaty fun.
Treat yourself to pure indulgence with our Gluten-Free Triple Chocolate Pop Tarts. It's like a super convenient, delicious chocolate adventure, all wrapped up in a pop tart.
Get ready for a tasty and healthy treat with our Homemade Blueberry Pop Tarts. These are not your ordinary pop tarts – they're made with real blueberries and good ingredients.
Imagine a yummy, flaky crust that's filled with juicy blueberries. It's like having a burst of sweet and tangy flavors in every bite.
But here's the best part: these pop tarts are good for you! We've made them with wholesome stuff, so you can enjoy them without feeling guilty.
Whether you're starting your day or need a quick snack, our Homemade Blueberry Pop-Tarts are perfect. They're a great combination of delicious and healthy.
Get ready for a big treat with our Giant Brown Sugar Cinnamon Pop Tarts. These are like your favorite pop tarts, but much, much bigger!
Think about a huge, flaky pastry stuffed with sweet brown sugar and cozy cinnamon. It's like a warm hug of deliciousness in every bite.
These aren't just snacks but a whole experience. Whether you want to share or keep it all to yourself, they're a fun twist on a classic treat. You'll love how the sweet brown sugar and cinnamon flavors come together from the first taste to the end.
Treat yourself to something big and yummy. It's like your favorite flavors but super-sized for extra enjoyment!
Prepare for a double win – our Strawberry Pop-Tarts are now Gluten-Free and Vegan! That means they're super friendly for your tummy and your taste buds.
With a flaky crust that's gluten-free and vegan-friendly, filled with yummy strawberry goodness. Each bite is like a taste of sunshine and happiness.
We're all about making everyone happy, whether you're gluten-free, vegan, or just a fan of deliciousness. Made with care, you can enjoy a treat that fits your lifestyle.
Join the fun and dig into your tummy and the planet. They're a tasty way to unite people over something sweet and satisfying!
Introducing a delightful twist on breakfast favorites. These scrumptious treats bring together the goodness of berries and the comfort of pancakes in a convenient package.
Imagine biting into a flaky pastry filled with real berry flavors. It's like having a stack of pancakes topped with your favorite berries, all in one hand.
Each bite offers a harmonious blend of fruity sweetness and the comforting taste of pancakes. Whether rushing in the morning or enjoying a lazy brunch, these will bring joy to your day.
Indulge in a treat that's both breakfast and dessert; all wrapped up in one. To make your mornings (or anytime!) a little more delicious and a lot more fun.
These treats redefine indulgence, offering a rich, gooey hot fudge filling encased in a golden, flaky crust. It's a symphony of flavors and textures that create a luxurious experience for your taste buds.
The Hot Fudge Pop Tarts are a dessert lover's dream come true. Whether treating yourself after a long day or satisfying a late-night craving, these pop tarts deliver a dose of pure chocolate bliss.
Elevate your dessert game with the ultimate nostalgic and extravagant treat. Journey into the world of chocolate paradise, promising a delightful escape into a realm of sweetness and delight.
Get ready for fall coziness with our Pumpkin Spice Pop Tarts. These treats bring the warm and comforting flavors of pumpkin spice right to your fingertips.
Imagine biting into a flaky pastry filled with pumpkin spice goodness. It's like enjoying the flavors of your favorite pumpkin spice latte in a yummy snack.
Our Pumpkin Spice Pop Tarts are like a little slice of autumn happiness. Whether starting your day or taking a break, these pop-tarts are a tasty way to celebrate the season.
You'll taste the cozy blend of cinnamon, nutmeg, and pumpkin with each bite. So grab a Pumpkin Spice Pop Tart and enjoy the fall flavors in a delicious treat that's perfect anytime.
Strawberry White Chocolate Pop Tarts combine the timeless appeal of strawberries with the indulgent sweetness of white chocolate, resulting in a delightful treat that tantalizes the taste buds.
These pop tarts feature a flaky pastry crust that encases a luscious filling made from real strawberry puree, giving every bite a burst of fruity freshness. Adding creamy white chocolate chips to the filling creates a harmonious contrast, melding the vibrant berry flavor with a velvety richness.
Whether toasted to a golden perfection or enjoyed straight from the package, Strawberry White Chocolate Pop Tarts offers a convenient and satisfying snack for any time of day. The irresistible aroma of strawberries and white chocolate wafts from the toaster, making mornings more inviting and afternoon breaks more delightful.
With their blend of comforting nostalgia and innovative flavors, these pop tarts have become a beloved choice for those seeking familiarity and culinary adventure in their snacking experience.
Homemade Paleo Pop Tarts are like a cool twist on the old favorite pop tarts, but healthier. They're made for folks who want to eat smart and follow a paleo lifestyle. Instead of regular flour, they use special flours like almond or coconut, which are better for you. The filling inside can be fruity jams, nut butter, or even dark chocolate for a tasty surprise.
Homemade Paleo Pop-Tarts are special because they skip the bad stuff like fake sugars and weird chemicals. These pop tarts are good for people who want to munch on better ingredients.
Whether you're a paleo pro or just someone who likes good snacks, these homemade pop tarts make you feel good. Baked until they're right and sometimes topped with honey or nuts, these pop tarts bring back those homemade flavors we all love.
Boston Cream Donut Pop Tarts combine two yummy treats: toaster pastries and Boston cream donuts.
Picture a crispy outside with a soft inside. The inside is like a mix of creamy vanilla pudding and a touch of chocolate, just like the Boston cream pie. You get a little crunch and a lot of smoothness in every bite. These Pop-Tarts taste cozy whether you warm or eat them as they are.
They're easy to take on the go and give you that happy feeling of enjoying a special dessert. Have them for a quick breakfast, a tasty snack, or whenever you want something sweet. It's like having a donut and a pastry in one – a delicious, fun, and satisfying combo.
Cream Cheese and Strawberry Jam Pop Tarts are a delightful twist on the classic toaster pastry.
Made with a flaky, golden crust filled with creamy, tangy cream cheese and a burst of sweet strawberry jam. Each bite is a harmonious dance between rich and fruity flavors. The cream cheese adds a luscious, velvety texture that complements the vibrant sweetness of the strawberry jam.
These Pop-Tarts offer a comforting indulgence, whether warm and toasty or straight from the package. Their convenient size and satisfying taste make for a perfect breakfast treat or a comforting snack.
Combining familiar cream cheese and the nostalgic joy of strawberry jam creates a timeless and heartwarming experience that brings a smile to your taste buds.
As we wrap up our journey through these 12 amazing gluten-free Pop-Tart recipes, it's clear that everyone can enjoy delicious treats, no matter their dietary needs. These recipes offer a fantastic solution for those who can't have gluten but still want to indulge in tasty treats.
From the very first bite, you're in for a treat that's both yummy and nostalgic. Whether you prefer the classic fruity flavors or something more unique, these recipes show that gluten-free baking can be creative and mouthwatering.
What's even better is that you can make these Pop-Tarts your own. Switch up the flavors and ingredients to suit your tastes and cravings. It's a reminder that food isn't just about eating – it's about bringing joy and togetherness.
So, let's celebrate these gluten-free delights. Every bite is a reminder that we can still enjoy incredible flavors and have fun with our food, no matter our dietary restrictions. Cheers to tasty, gluten-free treats!