Precise measurements are crucial for achieving culinary success in both cooking and baking.
Understanding the relationship between various units of measurement is crucial for following recipes and achieving consistent results.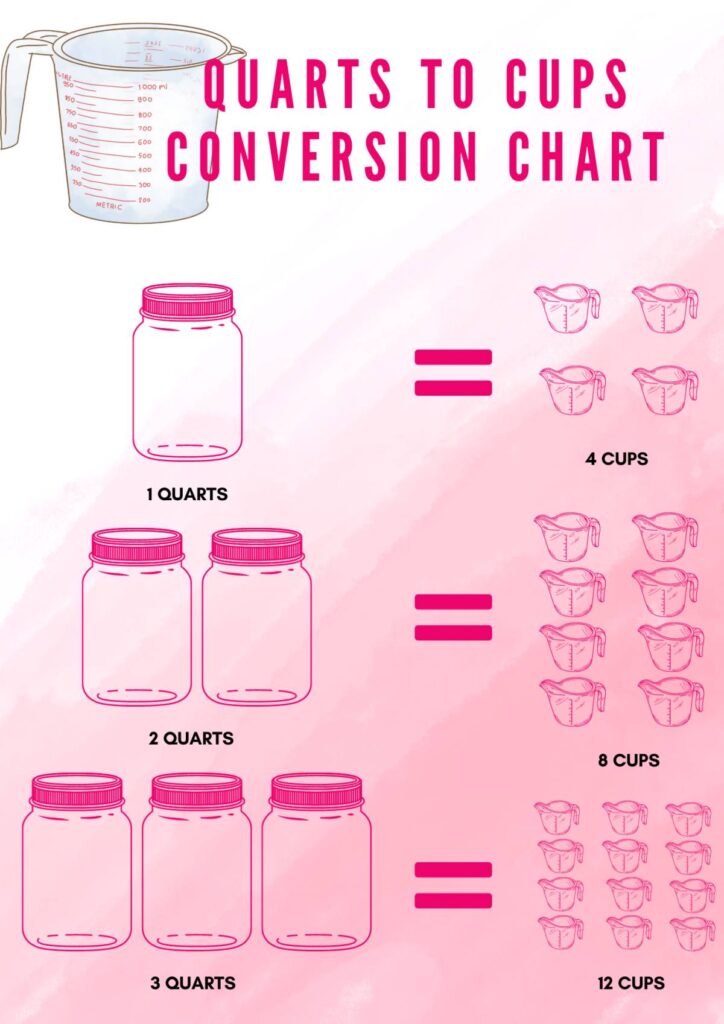 In this article, we will focus on converting cups to quarts, exploring the fundamental question of how many cups are in a quart. The answer is 4 cups. With this knowledge, you'll be equipped to confidently navigate the world of liquid measurements.
For other conversions, check out these guides on How To Convert 100 Grams to Cups, How Many Tablespoons Are In A Cup of Butter, and How Many Tablespoons Are In A Cup!
If you want the best way to save time in the kitchen, check out the Easy Cooking and Baking Calculator!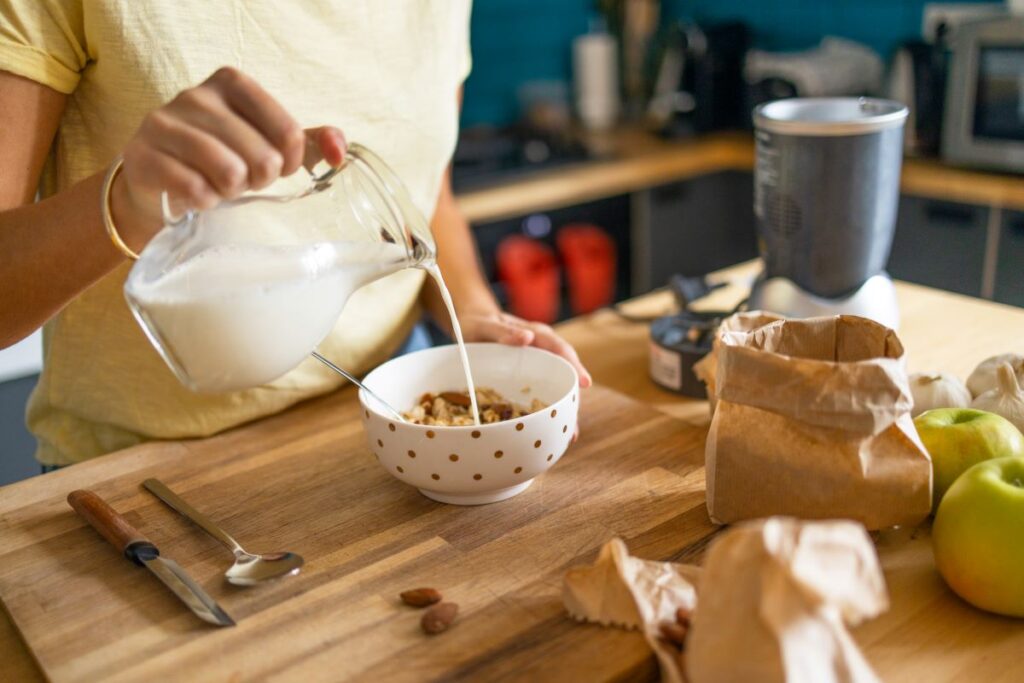 The Basics of Liquid Measurements
Before we dive into the conversion, let's establish a foundation by understanding the essential units of liquid measurements.
Cups: Versatile and Widely Used
A cup is a unit of volume commonly used in cooking and baking. In the US, a cup is equal to 8 fluid ounces or approximately 237 milliliters. Cups are widely utilized for measuring liquids like milk, water, and juice, as well as dry ingredients like flour and sugar.
The origin of the cup as a measurement tool dates back to ancient societies, where various regions had their own size for this particular unit. Today, you'll most commonly encounter US customary cups, US legal cups, and the metric cup. Here's a quick summary of their sizes:
US customary cup: 8 fluid ounces (≈ 237 ml)
US legal cup: 8.12 fluid ounces (≈ 240 ml)
Metric cup: 250 milliliters
Quarts: Larger Quantities for Liquids
Quarts are used when measuring larger quantities of liquid ingredients. Represented by the abbreviation "qt," this unit is frequently employed in recipes that involve soups, stocks, or beverages. Understanding the relationship between cups and quarts allows for seamless conversions and recipe scaling.
A quart is used primarily in the United States and the United Kingdom. It's a larger unit than a cup, and the exact size depends on which system you are using: US customary or UK imperial. Here's how they compare:
1 US customary quart: 32 fluid ounces (≈ 946 ml)
1 UK imperial quart: 40 fluid ounces (≈ 1,136 ml)
The history of the quart measurement can be traced back to the early days of the British Empire when this unit was used in trade and commerce. It has evolved over time, but it remains a standard volume unit for measuring liquids, especially in the context of cooking and baking.
When it comes to converting quarts and cups, you need to remember that there are different conversion factors for US and UK systems. For the US system, 1 quart is equal to 4 cups. Meanwhile, for the UK system, 1 quart is also equal to 4 cups but keep in mind that UK cups are a bit larger than US cups. To help you with quick conversions, consider the following:
1 US quart = 4 US cups
1 UK quart = 4 UK imperial cups
By understanding the origins and values of cups and quarts, you can confidently use these volume units in your cooking and baking endeavors. Just be sure you are using the correct conversion factor depending on your country's system.
The Conversion: Cups to Quarts
Now, let's explore the conversion of cups to quarts and determine the exact quantity of cups in a quart.
The Relationship: 1 Quart = 4 Cups
To convert cups to quarts, it is essential to know that there are 4 cups in a quart. This simple conversion factor provides a reliable framework for kitchen measurements.
This formula makes it easy to convert between the two units of measurement. For example, if you have 12 cups, you can find out how many quarts that is by dividing 12 by 4:
Quarts = 12 cups / 4 = 3 quarts
Keep in mind that this formula applies to US cups and quarts only. The formula for converting metric cups might be different.
The Importance of Measurement Conversions
Accurate measurement conversions are crucial for several reasons:
Scaling Recipes: If you come across a recipe that serves more or fewer people than you intended, understanding the conversion allows you to adjust the quantities accordingly.
Recipe Substitutions: When a recipe specifies a quantity in quarts, but you only have a measuring cup available, knowing the conversion enables you to substitute cups for quarts accurately.
Consistent Results: Precise measurement conversions ensure that your recipes turn out consistently delicious every time you prepare them.
Printable Conversion Charts for Easy Reference
To make your life in the kitchen easier, consider using printable conversion charts. These handy resources provide a quick and convenient reference when you need to convert measurements on the fly. Whether you prefer a kitchen conversion chart magnet on your refrigerator or a chart taped inside a cabinet door, having a visual aid within arm's reach can save time and prevent any measurement mishaps.
A Well-Designed Kitchen Conversion Calculator
Cups to quarts conversion
Cups to pints conversion
Quarts to gallons conversion
Cups to fluid ounces conversion
Cups to tablespoons conversion
Teaspoons to tablespoons conversion
By having all the conversions at your fingertips, you can effortlessly convert measurements as you cook and bake.
The Metric System and Conversion Tables
It's worth noting that the metric system is widely used in many parts of the world. If you come across recipes that provide measurements in milliliters or liters, conversion tables are available to help you convert them to cups and quarts. These conversion tables provide a valuable resource when working with recipes from different regions or experimenting with international cuisines.
Differentiating Between Dry and Liquid Measurements
While the focus of this article is on liquid measurements, it's important to mention the distinction between dry and liquid measuring cups. Dry measuring cups are designed for powders and solid ingredients, while liquid measuring cups are designed for liquids. When measuring liquid ingredients, be sure to use a clear liquid measuring cup with pour spouts for accuracy.
Common Kitchen Conversions and Tips
Here are some additional common kitchen conversions and tips to help you navigate the world of liquid measurements:
Cups in a Pint: There are 2 cups in a pint. This conversion is particularly useful when working with smaller quantities of liquid ingredients.
Quarts in a Gallon: There are 4 quarts in a gallon. This conversion is often necessary when preparing large batches of recipes or when dealing with commercial-sized quantities.
Measuring Liquid Ingredients: When measuring liquid ingredients, ensure that you use a flat surface, such as a countertop, and place the measuring cup at eye level to achieve accurate measurements.
Wet and Dry Ingredients: Remember that liquid and dry ingredients have different measuring techniques. For liquid ingredients, use a liquid measuring cup with pour spouts, and for dry ingredients, use dry measuring cups with flat edges for leveling.
Converting to Smaller Units: If a recipe calls for a quarter cup and you don't have a measuring cup of that size, you can use a half-cup and fill it halfway to achieve the desired measurement.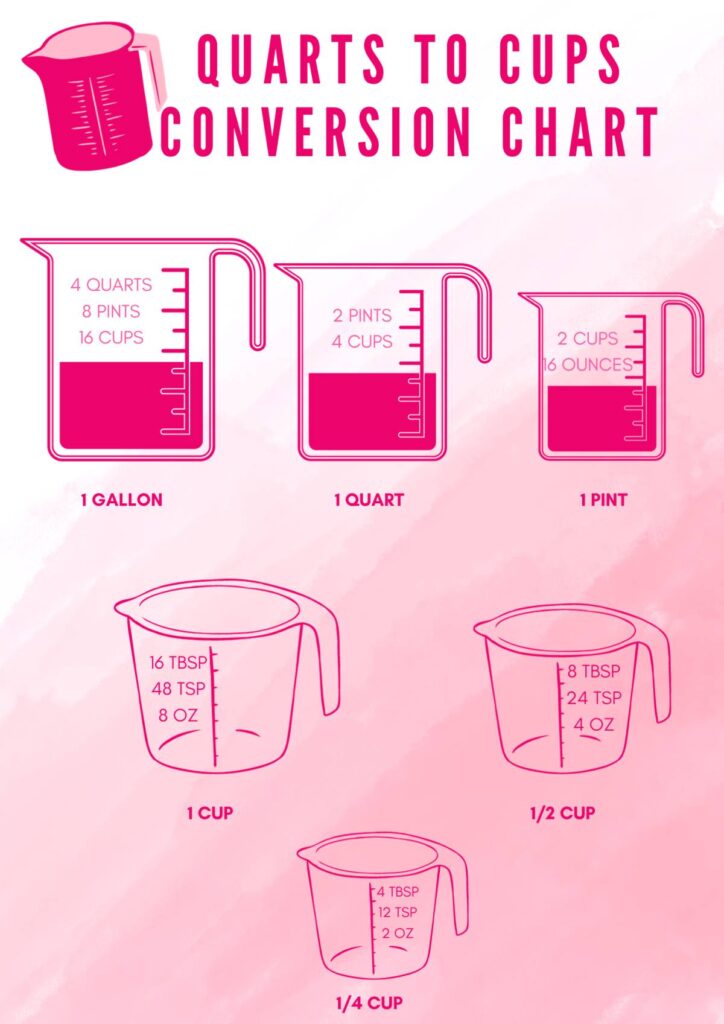 Frequently Asked Questions
Q: How many cups are in a quart?
A: A quart contains 4 cups. You can convert between cups and quarts by multiplying the number of cups by 0.25 or dividing the number of cups by 4.
Q: How many quarts are in a gallon?
A: A gallon consists of 4 quarts. If you need to convert from quarts to gallons, simply divide the number of quarts by 4.
Q: How many pints are in a quart?
A: There are 2 pints in a quart. To convert from pints to quarts or vice versa, multiply or divide by 2 accordingly.
Q: How do I accurately measure liquid ingredients?
A: To measure liquid ingredients accurately, use a transparent liquid measuring cup with clearly marked measurements. Place the cup on a flat surface, pour the liquid slowly, and check the measurement at eye level for accuracy.
Q: Can I substitute cups for quarts in a recipe?
A: Yes, you can substitute cups for quarts in a recipe. If a recipe specifies a quantity in quarts, you can convert it to cups by multiplying the number of quarts by 4. This allows for easier measurement using standard measuring cups.
Conclusion
Understanding the conversion of cups to quarts is a valuable skill that enhances your culinary prowess. By knowing that there are 4 cups in a quart, you gain the ability to adjust recipes, substitute ingredients, and achieve consistent results. Printable conversion charts and conversion tables can be excellent resources to have on hand for quick and easy reference.