Mexico is famous for its scrumptious food, and when it comes to desserts, Mexican cookies are the hidden gems that will make your taste buds tango. We're about to embark on a delicious journey as we unveil 14 incredible Mexican cookie recipes. For more cookie recipes, check out my peppermint cookies.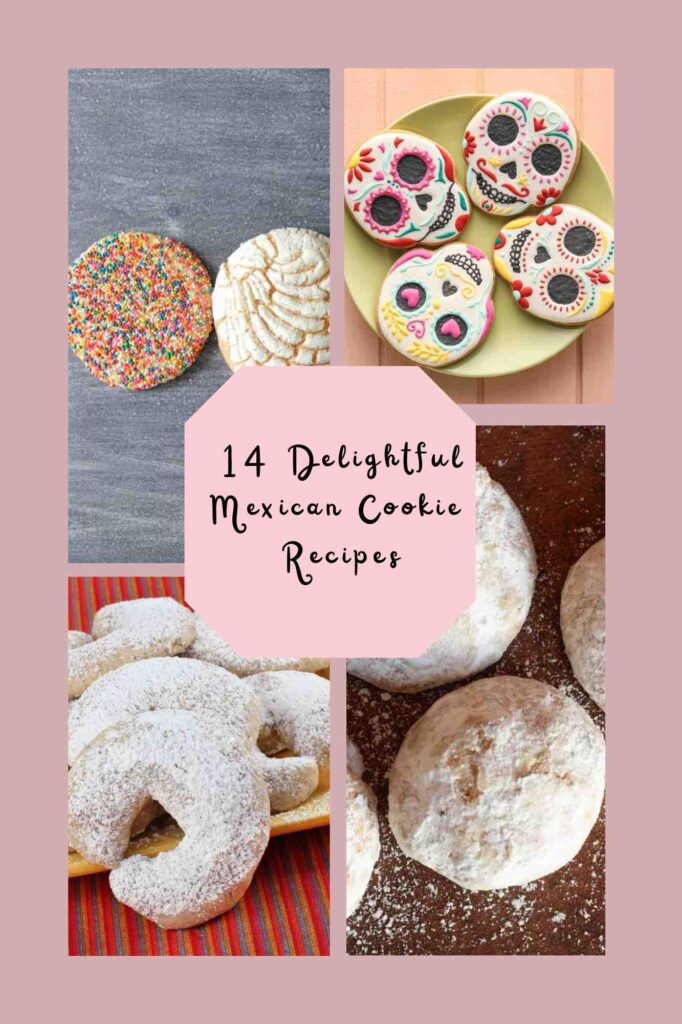 These cookies are like little bites of happiness that explode with flavors you won't believe. The best part? You don't need to be a baking expert to master these recipes. We're keeping it simple so anyone can join the cookie fun!
If you love baking cookies, try out How To Make Peppermint Cookies With Chocolate Chips!
So, grab your apron and get ready for a sweet adventure. These cookies have a unique story and flavor that will leave you wanting more. Picture your kitchen filled with the delightful aromas of Mexico as we explore these 14 mouthwatering Mexican cookie recipes.
Table of Contents
Mexican Wedding Cookies, or Snowball Cookies, are super yummy treats perfect for celebrations or when you want something sweet and cozy.
To make these cookies, you'll need some basic stuff: butter, powdered sugar, flour, and ground nuts like almonds or pecans. Oh, and a little vanilla extract for extra flavor. You mix all these things until you have a crumbly dough. Then, you shape the dough into small balls and bake them until they turn a nice light brown.
After they cool down, it's time for the fun part! You cover them in a big sprinkle of powdered sugar, making them look like snowballs. They taste amazing, kind of like a mix of butter and nuts with a touch of sweetness. Mexicans love these cookies, especially at weddings, so they're called Mexican Wedding Cookies.
Mexican Hot Chocolate Cookies are a delightful twist on the classic chocolate cookie, inspired by the rich and comforting flavors of Mexican hot chocolate. These cookies offer a perfect blend of sweetness and warmth.
What makes them unique is the addition of spices like cinnamon and cayenne pepper, which infuse each bite with a subtle, spicy kick reminiscent of traditional Mexican hot chocolate. Some recipes also call for a hint of coffee for added depth of flavor.
These cookies often have a slightly cracked appearance on the surface, creating a rustic charm. To complete the Mexican hot chocolate experience, many recipes include a dusting of powdered sugar or a drizzle of melted chocolate on top.
Chocolate Dipped Churro Shortbread Cookies are a heavenly blend of two delectable desserts: the buttery, crumbly goodness of shortbread and the irresistible allure of churros, all dipped in a bath of velvety chocolate. These cookies are a flavor explosion that's a true crowd-pleaser.
This infusion of churro-inspired spices adds a warm, cozy dimension to the buttery base. After baking to perfection, the cookies are transformed when they dip in rich, melted chocolate, resulting in a delightful contrast of textures and flavors.
These cookies are perfect for satisfying your sweet cravings with nostalgia. Whether you savor them with a cup of coffee, share them at gatherings, or indulge in them as a special treat, chocolate-dipped churro Shortbread Cookies are a heavenly combination that promises pure delight in every bite.
Hojarascas, often called Mexican Cinnamon Sugar Cookies, is a beloved treat in Mexican cookies cuisine that embodies cinnamon and sugar's warm and comforting flavors. These cookies are a delightful fusion of crumbly texture and sweet, spicy taste.
Once baked to a light golden hue, these cookies are rolled in a generous mixture of sugar and cinnamon, which adheres to their surface and imparts a sweet, spicy coating. The result is a perfect balance of tender cookie and sugary spice, making each bite a delightful experience.
Hojarascas are often enjoyed during celebrations and family gatherings, but they're equally delightful with a cup of coffee or tea. These Mexican Cinnamon Sugar Cookies offer a comforting taste of tradition and are a treasured treat in Mexican culture.
If you want to try other sugary delicacies, check out How To Make Delicious Angel Food Cake, Best Lemon Cake Recipe, How To Make Portuguese Custard Tarts, and How To Make Apple-filled Doughnuts!
Mexican Cookies Sprinkles, known as "polvorones con chochitos" in Mexico, are a whimsical and colorful treat that brings joy to any occasion. These cookies are celebrated for their vibrant appearance and delightful taste.
To create these festive cookies, a simple but delicious shortbread dough uses ingredients like flour, sugar, butter, and sometimes a hint of vanilla or almond extract for extra flavor. Then, add sprinkles that come in a rainbow of hues, turning the cookies into a celebration of colors and textures.
After baking to a light golden brown, the cookies are generously coated in powdered sugar while still warm, creating a sweet and crumbly exterior that contrasts beautifully with the vibrant sprinkles. Each bite offers a perfect blend of buttery richness, sugary sweetness, and a playful crunch from the sprinkles.
Spicy Mexican Hot Chocolate Cookies are a delightful twist on traditional chocolate cookies, infusing them with the zesty and warming flavors of Mexican hot chocolate. These cookies offer a tantalizing combination of sweetness and spice, making them a true culinary adventure.
Traditional Mexican spices, such as cinnamon and cayenne pepper, deliver a pleasantly spicy kick that dances on the taste buds. The result is a rich, chocolaty cookie layered with a delightful heat that builds with each bite. The sweetness balances the heat, creating a harmonious flavor profile reminiscent of sipping a cup of Mexican hot chocolate by a cozy fireplace.
Spicy Hot Chocolate Mexican Cookies are perfect for those who crave a little excitement in their desserts. Whether enjoyed with a glass of cold milk or a steaming cup of coffee, these cookies offer a thrilling and delicious experience that will leave a lasting impression.
Marranitos, or "Puerquitos," which means little pigs in Spanish, are these incredibly cute and super yummy Mexican cookies. They're famous for their piggy shapes and their amazing taste.
To make Marranitos, you mix simple stuff like flour, brown sugar, lard (or butter), and a magical ingredient called piloncillo. Piloncillo is a special sugary thing from sugarcane that gives these cookies unique and awesome flavor. It's like a sweet caramel hug for your taste buds.
After making the dough, you roll it out and cut it into adorable pig shapes. Then, you bake them until they get a bit crispy on the outside but stay soft and chewy inside – it's a fantastic combo of textures.
Orange Mexican cookies, or "Galletas de Naranja," are like sunshine in your mouth. These cookies are like the happy, sunny cousin of your regular cookies. To make them, start with your basic cookie ingredients: flour, butter, sugar, and eggs. But here's the twist: add some orange zest or orange extract to the mix. It's like adding a bit of zing and zang to your dough.
The result? It's a cookie that's all buttery and sweet but with this exciting, tangy orange flavor. It's like taking a bite of a juicy orange on a warm, sunny day. Some recipes even go the extra mile with a sugary orange glaze or a snowy sprinkle of powdered sugar on top.
These cookies aren't just for special occasions; they can turn any day into a sunny, citrusy adventure. So, the next time you want a treat like a ray of sunshine, try these orange Mexican cookies!
Piloncillo Cookies with Mexican Chocolate, the dynamic duo of sweetness and spice, teaming up for your taste buds' ultimate delight. These cookies are like a flavor adventure, taking your mouth on a rollercoaster taste ride.
Prepare piloncillo, which is sugar but not just any sugar. It's sugarcane goodness that's been cooked to give it a rich, caramel-like flavor. It's like sugar with a twist, a sweet dance on your tongue. Then, the Mexican chocolate. It's not your everyday chocolate; it's got a dash of cinnamon and sometimes a hint of chili.
Put these two together in cookie form, and you've got a magical treat. Each bite is like a party in your mouth, with sweet and spicy flavors having a delicious dance-off. Enjoy them with a glass of milk or as an after-dinner delight; Piloncillo Cookies with Mexican Chocolate is a tasty fiesta waiting.
Coricos, these Mexican Corn Cookies that are like little pieces of tradition and flavor all rolled into one. Imagine a cookie, but not your usual one. Coricos start with corn masa, or corn dough, giving them an earthy, rustic feel. Then, add some sugar for sweetness and a dash of cinnamon for that warm, cozy spice.
The result? A cookie that's not super sweet but has this awesome, comforting taste, a cozy Mexican cookie hug for your taste buds. And they're shaped into little rings- pretty cool and traditional – like tiny crowns!
Coricos are perfect with a warm cup of coffee or hot chocolate. They're not just cookies; they're a taste of Mexican culture and a reminder of how simple ingredients can create something special. So, next time you want a cookie with a twist, give Coricos a try. They're like a flavorful journey to Mexico in every bite!
Let me introduce you to a magical recipe: Espejo Mexican Cookies, also known as "Mirror Cookies." These cookies are like little edible artworks.
First, you make a simple sugar cookie dough. Then, you put a small, colorful, hard candy in the middle of each cookie. As the cookies bake, these candies melt and spread, creating a beautiful, stained-glass effect like a mirror.
Espejo Cookies come in all sorts of shapes and sizes, and they're like little windows to a world of sweetness. They're especially popular during holidays and special occasions because they look like edible decorations. When you take a bite, you get this wonderful mix of buttery cookie and a burst of fruity candy flavor
Let's dive into the wonderful world of Mexican Cinnamon Sugar Cookies, also known as "Galletas con Azúcar y Canela." These cookies are like a warm, comforting hug for your taste buds.
You add a good sprinkle of ground cinnamon. It's like turning your regular sugar cookies into something spicy and special. After baking these beauties to golden perfection, you roll them in sugar and even more cinnamon. That's like giving them a sweet and crunchy coat.
So, what do you get? A cookie that's soft and has a delightful crunch on the outside. And when you take a bite, it's like a cozy, cinnamon-filled hug for your mouth. Mexican Cinnamon Sugar Cookies are simple but incredibly delicious, bringing a touch of spice to your day!
Imagine this: Butter Cookies filled with "Dulce de Leche" Crème, the ultimate cookie indulgence that's as fun to make as it is to eat. You start with these lovely buttery cookies. They're soft, they're crumbly, and they're delicious all on their own.
Create a little crater in the center of each cookie, like a thumbprint. And here comes the show's star – "Dulce de Leche." This stuff is like caramel's fancier cousin. It's made by slowly cooking sweetened condensed milk until it becomes this creamy, caramel-y goodness.
You scoop a spoonful of this caramel heaven right into the center of each cookie, and when they come out of the oven, they're pure magic. You get the rich, buttery cookie and the sweet, gooey caramel filling.
Picture this: Chewy Margarita Mexican Cookies, where the zestiness of a classic margarita cocktail meets the sweetness of a chewy cookie.
You can start with the basics- the cookie classics – flour, sugar, butter, and eggs. Add fresh lime zest and a touch of tequila or margarita mix to the dough. It's like giving your cookies a citrusy, boozy twist. After baking, these cookies get a little sugar bath, giving them a sweet and slightly crispy coat, just like the sugared rim of a margarita glass.
Biting is like sipping on a tangy margarita but without the glass. These cookies are a taste of vacation in every chewy bite. They're great for sunny days or when you want a little fiesta in your cookie jar. So, why not try them and let your taste buds do the cha-cha-cha?
Conclusion
Our journey into the world of Mexican cookies has been like a fun-filled treasure hunt for your taste buds. We've uncovered 14 fantastic recipes that are like little bites of happiness. From the buttery goodness of Polvorones to the spicy surprise of Chocolate Ancho Cookies, these treats have a special magic that makes you smile.
But it's not just about deliciousness – it's also a way to taste Mexico's food traditions. Mexican cookies are a fantastic choice whether you're baking for a special day, a party, or just for a sweet moment.
These recipes are your passport to a yummy adventure right in your kitchen. As you munch on these delightful goodies, you're not just eating but also experiencing a bit of Mexico's wonderful culture in every bite. So, go ahead, bake, and enjoy!